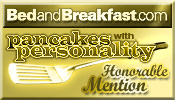 2 cups of flour (sift before measuring)
1 teaspoon of salt
1/4 cup powdered sugar
3 teaspoons of baking powder
¼ cup butter very soft
3 eggs
1 ¾ cup half and half (goat milk may be substituted for lactose intolerant guests)
8oz of goat cheese
1 tsp lemon extract
2 cups fresh or frozen blueberries (read second tip below before using frozen)
Mix with an electric mixer softened butter, half and half, and eggs. Crumble goat cheese into mix and blend together, some lumps are okay. Add lemon extract and all dry ingredients except flour and beat. Briefly beat in flour just until mixed, again some lumps are okay. At this point the batter maybe refrigerated for several hours.
TIPS:  I use a 1.5oz ladle (filled) for scooping out the batter to stay consistent.  Other than the batter not being too thin or too thick, probably the most important thing is the temperature of your griddle.  Your griddle is hot enough if water will spatter when dropped on it.  If it just boils it's not hot enough.   I use a scant amount of generic spray pan release on the griddle.  Once the batter is on the griddle, I drop the blueberries onto the 4″ circle of pancake batter.  You can also garnish the plate with blueberries.  Or, don't put any on top of the batter at all and just put them on top of the finished pancakes.  If you eat the pancakes without blueberries you can taste the lemon a little bit more.  You can make these pancakes without the lemon extract but I think the lemon really accents the blueberries.  This recipe is great for lactose intolerant guests, just substitute goats milks for the half and half.  For syrup you can use regular maple syrup or blueberry syrup.
TIPS FOR FREEZING BLUEBERRIES: I pick blueberries every summer and freeze them for use all year long. The trick to freezing them is to use an orchard where they don't spray any of their bushes. After picking, DO NOT WASH them, furthermore, spread them out on trays and let them air dry for a day. When they are totally dry, pick out any remaining stems or leaves as you place them into plastic containers. They will last for a year or better in the freezer. You can take these right out of the freezer (they will be loose, not stuck together), measure out what you need and put the rest back in the freezer. The frozen fruit you buy in the store can be wet and mushy because of the preservatives and they are frozen when they are damp.
www.GracehillBandB.com info@GracehillBandB.com 865-448-3070