Honey Waldorf Salad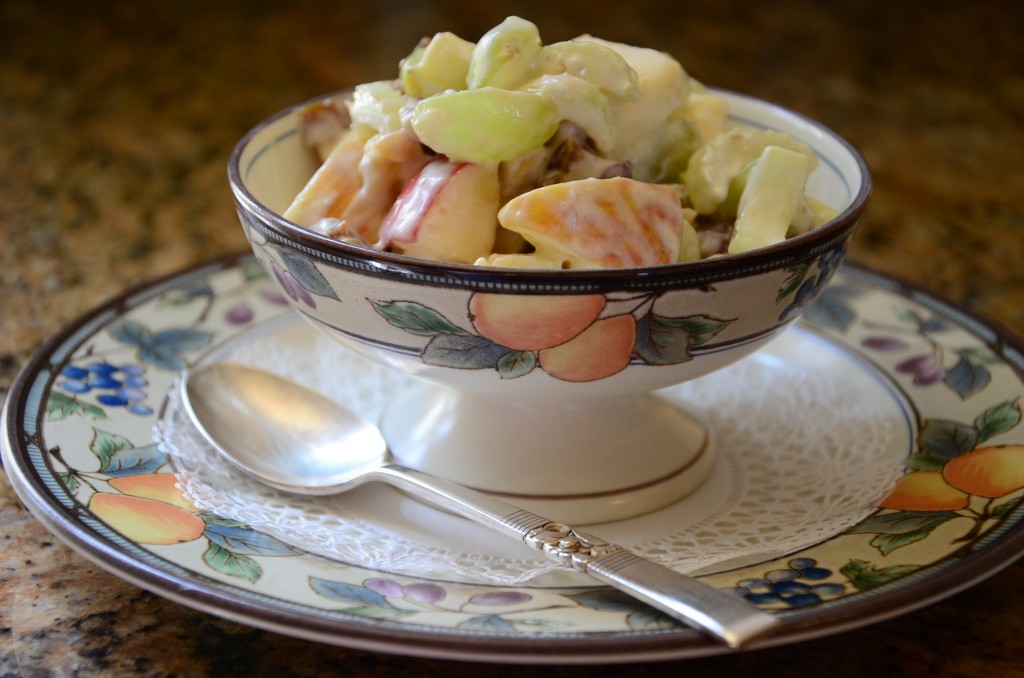 Author:
Gracehill Bed and Breakfast
Honey Waldorf Salad
Ingredients
4 C diced apples
2 Tbsp fresh lemon juice
2 C grapes, both green and red
1 C thinly sliced celery
½ C chopped dates
½ C chopped walnuts
½ C mayo
¼ C honey
2 Tbsp sour cream
½ tsp salt
Instructions
I use an assortment of Red and Golden Delicious apples and maybe one Granny Smith or my favorite, Honey Crisp.
Core and cut up the apples, toss with lemon juice.
Add the grapes (cut in half the long way if they are large.)
Toss in the celery, dates and walnuts.
In a separate bowl, combine mayo, sour cream, honey and salt. Mix and pour over the apple mixture and mix well.
Chill before serving.
Read More
Most beekeepers are in it for the honey, although others maintain colonies of bees to pollinate crops, or for the beeswax, propolis, pollen or royal jelly.  My brother Mike and his son Kane started beekeeping four years ago, primarily for the pollen and propolis, and secondarily for the honey.
I talked to my nephew first.  To quote an eight year old, he likes beekeeping.  Opening the hive is cool.  They fly and crawl all over you.  I asked him if he wore protective clothing?  He said yes, an astronaut's suit!  Can you describe it?  Hat with a screen, gloves, long socks, boots and an all white suit.  I asked him if he knew why the suit was white? He didn't know. (I had spent an hour reading Wikipedi before calling him.)  I told him that natural predators of beehives were bears and skunks that were black and furry, so the suit by being white and slick, was as different as we could make it. So his mother may call him a skunk, but the bees could tell that he really wasn't one.  He was not impressed.  I asked him what else he did. He said he pulled the tray out the bottom and checked the pollen.  He said it was NOT COOL if there were beetles in the pollen cause they eat it, so his dad would clean it out.  I asked him what he did with the pollen and he said he ate it, which he thinks is gross, but his dad thinks is good for him.  Other than hearing what colors their pollen was, the fact that the queen bee had a blue dot on her, and honey was good on bread, bagels, and by itself, I had pretty well sucked this hive dry.
On to my brother. He has one hive.  He says pollen is one of nature's whole foods in and of itself.  Says you could live a good while just on pollen.  It has a complete string of vitamins and amino acids.  He said it also acclimates you to a lot of pollen allergies in the area.  He also collects the propolis, which is a tree resin the bees use to sterilize and seal off the hive.  Mike says you can make an extract with it by diluting it in pure grain alcohol, and it is good to use on canker sores, sealing wounds, etc.  He bottles the honey and shares with family and friends and our Smoky Mountain Bed and Breakfast, praise be!
So Auntie Kathy here would have to say, I'm leaning with my nephew.  I like the honey the best.  Mom makes a loaf of fresh baked bread and I pop a slice in the toaster, slather on some butter and honey and feel like the Queen Bee.  I think I could live a good while just on that, and I wouldn't be inclined to kill the male drones when cold weather approaches!  Who else is there, other than the male drones, to put up the Christmas lights?  mizkathleen@ Gracehill Bed and Breakfast
www.GracehillBandB.com  866-448-3070  Info@GracehillBandB.com
Read More