1 medium onion, chopped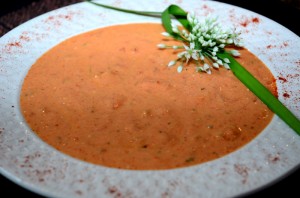 2 Tbsp butter
5 C fresh diced tomatoes or 2 cans (14- ½ ounces each) diced tomatoes undrained
2 cans (10 ¾ ounces each) condensed tomato soup, undiluted
1 ½ C milk
1 tsp sugar
½ to 1 tsp dried basil
1 tsp sugar
½ to 1 tsp paprika
1/8 to ¼ tsp garlic powder
1 package (8 ounces) cream cheese, cubed
In a saucepan, sauté onion in butter until tender.  Stir in tomatoes, soup, milk, sugar, basil, paprika and garlic powder.  Bring to a boil.  Reduce heat; cover and simmer for 10 minutes.  Stir in cream cheese until melted.  Yield about 2 quarts.
This is my favorite tomato soup recipe.  Mom doesn't put the sugar in (although I think it was nice!) and when it calls for 2 cans of chopped tomatoes we use 4 to 5+ cups of fresh- diced tomatoes from the garden.  When we get a surplus of tomatoes we used to freeze them whole, but now I dice 5 cups, put them in a baggie and freeze them.  Then in the middle of the winter we pull them out and make a batch.  You can make the soup ahead of time and freeze the soup also.  Marginally it is as good as eating it freshly made.  Kathy 865-448-3070
Read More
Last updated by theinnkeeper at .