Elegant dining starts with your choice of location: the rear patio under the pergola draped with wisteria and climbing roses, the morning room with a blazing fire, the formal dining room overlooking Townsend, or the covered front veranda at tree top level. We use different china, stemware, silver, and flower/candle arrangements each day of your stay.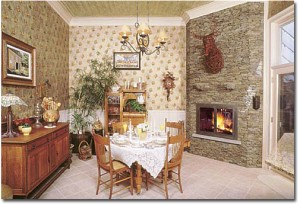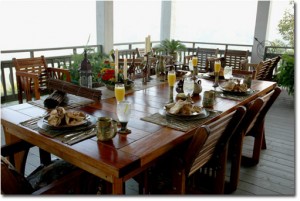 Our place settings compliment the menu down to the napkin folds. That is a story in itself...

Breakfast continues with:
Fresh ground coffee, herbal teas, and juice
Fresh baked coffee cake or pastry
Different fresh or baked fruit plates each morning
And a different main course each morning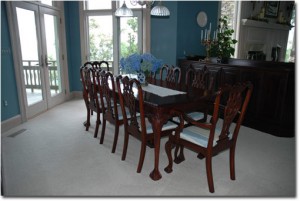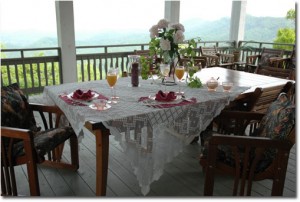 With notice prior to your arrival, picnic lunches or appetizer trays are available. See the specials page for descriptions. For dinner you have an array of over 100 restaurants from 3 to 22 miles away. Our favorite, www.FoothillsMillingCompany.com you need reservations well in advance.
You are always welcome to bring snacks or feel free to bring your own steak and salad and help yourself to the grill on the front veranda. In season, we use fresh herbs from our garden or greenhouse, eggs from free range chickens a couple of miles down the road,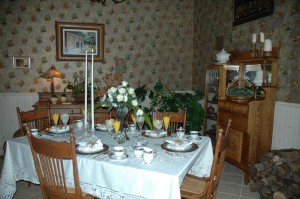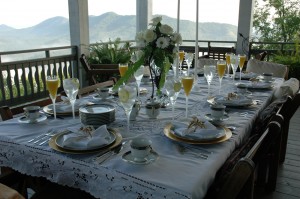 handpicked blueberries and strawberries from a local farm, blackberries off of our property, honey from my brother's hive, veggies from our garden (you get the picture)!
One of our most popular features on this website is the recipe page. Eleven of our recipes have won awards. They are listed there, along with many of the other recipes that are in all three of our B&B cookbooks.
Excerpt from a May 23, 2011, Trip Advisor Review:  "A cozy fire burning in the breakfast room fireplace, candles softly flickering on the beautifully set table laden with fine china and crystal, a colorful flower arrangement in a unique glass vase, and the aroma of a delicious breakfast soon to be served.  If the weather is cooperating, breakfast is served outdoors on the veranda.  This is the prelude to a wonderful day at Gracehill."  J.C. from PA