Coffee Cake- Apricot Almond Tart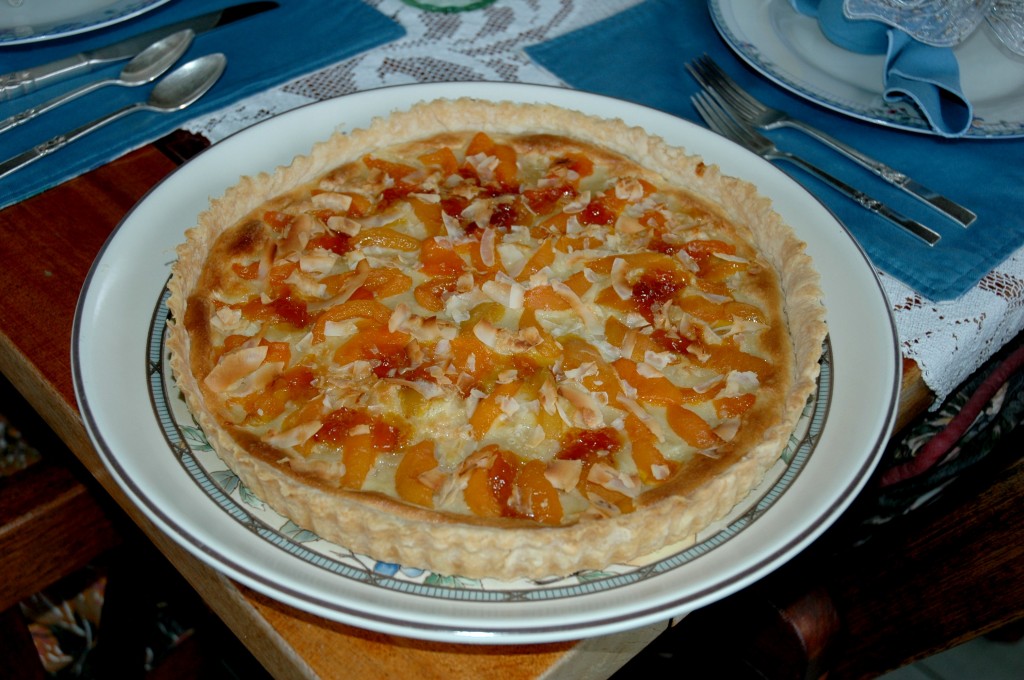 Author:
Gracehill Bed and Breakfast
The original recipe calls for 1 refrigerated pie crust (half of a 15 oz package) room temperature. Says to unroll crust on a heavy rimmed baking sheet, spread filling over crust leaving a 1 ½ inch plain border which you then fold back up and over the filling. Instead I make my own pie crust dough and use a large tart pan. The edges look a lot crisper and it bakes more evenly. The crust I use has a ratio of 6 cups of flour, 1 pound of lard, and 2 t of salt. About two cups of this mixture will make a large tart bottom. Use very cold water to form ball and roll out. The rest of the dry ingredients can be refrigerated for future use
Ingredients
½ of 8 oz can of almond paste
3T and ½T sugar, divided
3 oz cream cheese, cut into ½ inch cubes
1 large egg yolk
1 t vanilla extract
1- 15 oz can of lite apricot halves (or those in heavy syrup)
¼ cup apricot jam, heated in microwave
Pie crust dough, see below
3 broken up amaretto cookies (Italian macaroons) or if you can't find these use a little flake coconut as shown in the photo above. Lately I have been using Archway Specialties Coconut Macaroons and like them a lot.
Instructions
Preheat oven to 400 degrees F.
Blend almond paste and 3 T sugar in a food processor until finely chopped.
Add cream cheese, egg yolk, and vanilla and blend until filling is smooth.
Spread your filling on the rolled out pie crust dough.
Drain the apricots and cut into strips. About 4 strips per apricot half.
Arrange apricot slices pinwheel fashion on the filling in a spoke pattern in 2 concentric circles.
Dribble apricot jam on top and sprinkle with remaining sugar.
Crumble up cookies and lightly cover top of tart.
Bake until crust is golden about 43 minutes.
Cool and serve warm or at room temp.