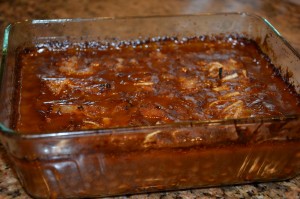 Side Dish- Baked Beans
You will notice no quantities are listed here. Mom just dumps and she got pretty testy when I tried to make her give me quantities! Before you lay the onion and bacon on top taste it and you'll know if it needs adjusting.
Author:
Gracehill Bed and Breakfast
Ingredients
Bushes Baked Beans
Cattleman's BBQ Sauce
Brown Sugar
Molasses
Little Bit of Mustard
Chopped Onion
Slices of Bacon Chopped into ½ or 1 inch pieces
Instructions
Mix together and pour into a casserole dish.
Place on top, raw pieces of onion and sliced pieces of raw bacon.
Bake in low oven 325 degrees till it bubbles, then take the cover off and bake until it thickens.