Side Dish- Fresh Tomato/Basil/Onion Salad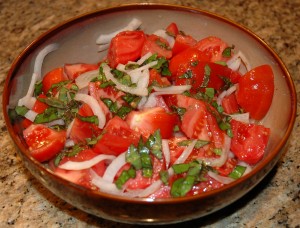 Author:
Gracehill Bed and Breakfast
We make this in the summer when we're picking tomatoes out of our garden...
Ingredients
4 medium tomatoes
¼ medium onion
fresh basil leaves
¼ C. olive oil
¼ C. rice vinegar
¼ tsp garlic salt
1 tsp. Sugar
Instructions
Whisk together olive oil, vinegar, garlic salt and sugar.
Chunk tomatoes, and slice onions very thin.
Snip the basil with scissors into ½ inch pieces.
Layer the tomatoes, onions, and basil in a bowl.
Pour mixture on top.
Garnish with a few big basil leaves.