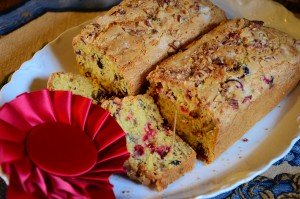 Craisin Orange Pecan Bread
The nice thing about this recipe is you can make it year around, even when fresh cranberries are out of season.
Author:
Gracehill Bed and Breakfast
Ingredients
1 C. sugar
2 tbsp. soft butter
1 egg
¾ C. orange juice with extra pulp
2 C. flour
2 tsp. baking powder
¼ tsp. soda
1 tsp. salt
Zest of two oranges
¾ C. chopped pecans
6 oz. dried cranberries
Instructions
Pour boiling water over the dried cranberries and let them sit while you are mixing up the rest of the bread.
Cream butter and sugar.
Add egg and beat, then orange juice and beat.
Add flour, baking powder, soda, salt and mix.
Mix in orange zest by hand or you lose a lot sticking to the beaters.
Drain cranberries and blot well.
Hand stir in cranberries and pecans.
Grease and flour the bread pan.
Cut and put wax paper on bottom.
After pouring the batter into the bread pan, sprinkle about a teaspoon of sugar on top of the batter to crisp the top while baking.
Bake at 350 for 65 minutes.
Test with toothpick.
Let cool for 20 minutes before flipping out of the pan.