Coffee Cake- Mini Sticky Buns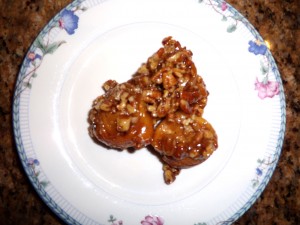 Author:
Gracehill Bed and Breakfast
⅓ cup melted butter (5.3 T)
⅓ cup brown sugar
1 T light Karo Syrup
1 can crescent rolls
Cinnamon and Sugar
chopped pecans (about a cup)
Mix the first three ingredients well, about a minute until the butter is mixed in with the sugar then spread it in the bottom of a 9" pie plate or your three ramekins.
Sprinkle ⅔'s of your chopped pecans on it.
Sprinkle some flour on the counter and unroll the crescent rolls trying to keep them in two rectangles of 4 crescent rolls each.
Pinch together seams.
Sprinkle on top cinnamon and sugar and more chopped pecans.
Roll each up into logs and cut each log into 9 pinwheels, makes 18 of them total.
Place cut side down into the pie plate or ramekins and bake at 375 degrees for about 20-25 minutes. When brown and bubbly take out of the oven.
Let set for 1 minute and then put a plate on top and flip it over.
About 3 pinwheels make one serving.