Breakfast- Poppy Seed Beef Pastry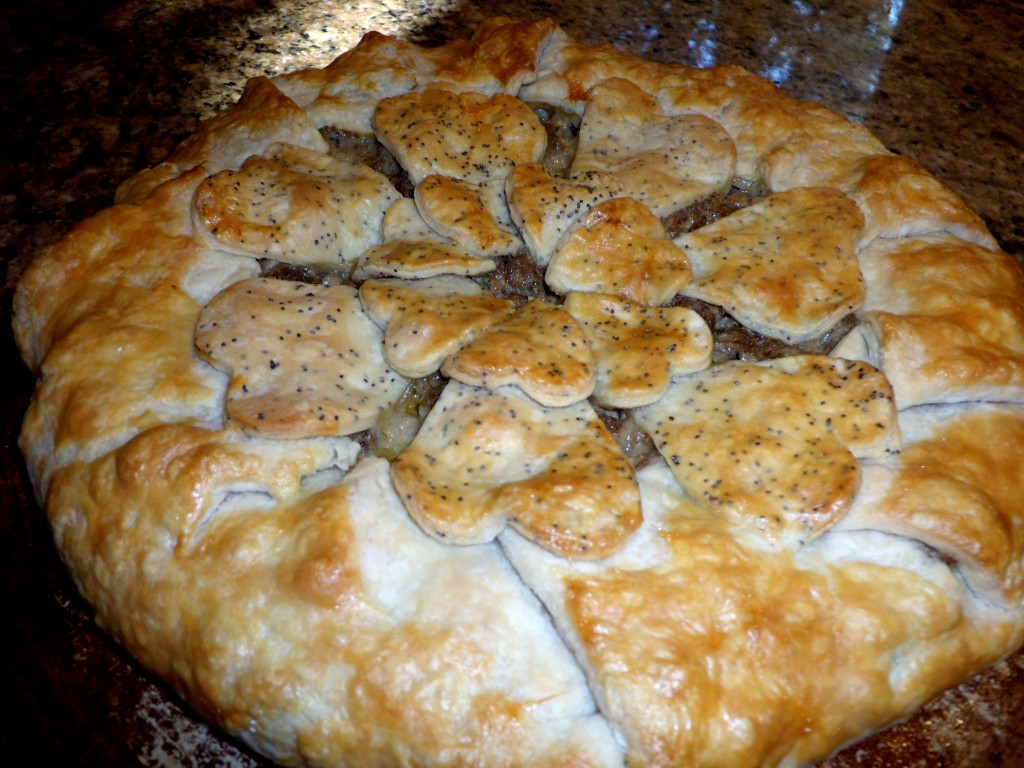 Author:
Gracehill Bed and Breakfast
Pastry:
2 C. Flour
1 tsp Salt
2 T. Poppy Seeds
⅔ C. Lard
Approx 6 T Cold water
Filling:
1 lb. Ground Beef
¼ C. Finely Chopped Onion
½ tsp Salt
⅛ tsp Pepper
½ tsp Accent
Whole Can of Cream of Chicken Soup, split
Cut lard into the flour and salt with a pastry cutter or food processor.
Add poppy seeds, and then mix in enough water to form a ball.
Cover with plastic wrap and place in the fridge until you are ready to roll it out.
Brown beef and onion, drain.
Add seasonings and half of soup. Mix well.
Roll out pastry into a circle. If doing either of the applications above roll to the size you need.
If you are doing individual turnovers, roll into a circle and cut with a knife into 8 triangles. Place ⅛ of mixture on the center of each piece of dough. Bring up the pointed tip of dough to almost the top outer edge, then flip up side flaps and pinch seams together.
Bake at 425 degrees for 20 to 25 minutes.
Heat remaining cream of chicken soup and dilute with a little water or half and half to form a thick pour-able sauce.
Garnish top of turnovers or large tart when done baking with the sauce and serve.
These can be made and frozen ahead of time. Bake the quantity that you need frozen at 425 for about 45 minutes. Makes a great main course at dinner or for breakfast also.