Dip- Hummus (aka Chick Pea/Garbanzo Bean Dip!)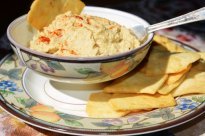 Author:
Gracehill Bed and Breakfast
1 15-oz to 19-oz can garbanzo beans drained, but reserve the liquid
1 clove garlic
1 Tbsp fresh lemon juice (or more, to taste)
3 Tbsp tahini OR 2 Tbsp smooth peanut butter
¼ tsp ground cumin (or more, to taste)
2 or 3 Tbsp olive oil, as needed
Salt and pepper to taste
Add drained beans, garlic, lemon juice, tahini/peanut butter and cumin to food processor.
Process.
While machine is running, slowly add up to half of the reserved bean canning liquid.
Stop machine and scrape down sides.
Start machine again and slowly add olive oil to desired consistency.
Add salt and pepper to taste.
Serve with pita bread or pita chips, and with vegetable crudites, e.g. carrot & celery sticks, bell peppers, cauliflower & broccoli florets, zucchini & cucumber slices, etc.