Brussels Sprout Vinaigrette Salad with Smoked Gouda, Pecans and Dried Cherries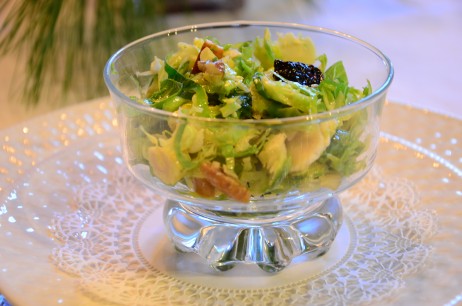 3 tbsp. lemon juice
2 tbsp. Dijon mustard
1 small shallot, minced
1 clove garlic, minced
Salt and pepper
6 tbsp. extra virgin olive oil
2 lbs. Brussels sprouts, trimmed, halved and sliced very thin
4 oz. (1C.) shredded cheese (Gouda or Cheddar recommended)
½ dried cherries or 1 Granny Smith apple, cored and cut into ½ inch pieces
½ C. pecans, toasted, skinned and chopped
Whisk lemon juice, mustard, shallot, garlic and ½ tsp. salt together in a large bowl. Slowly whisk in oil until incorporated.
Trim the stem end of each sprout then cut each sprout in half through the cut end. With the flat surface on the cutting board, slice up very thin. We used a food processor. They need to be as thin as possible.
Toss sprouts in with the vinaigrette and let sit for at least 30 minutes, up to 2 hours. Fold in cheese, fruit and nuts. Season with salt and pepper to taste.
Recipe by
Gracehill Bed and Breakfast
at https://www.gracehillbandb.com/2014/05/side-dish-brussels-sprout-salad-wsmoked-gouda-pecans-and-dried-cherries/