Fruit- Cheesecake Stuffed Peaches with Sliced Almonds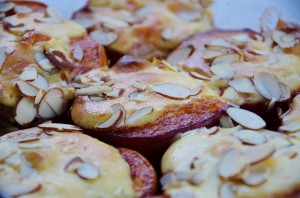 Author:
Gracehill Bed and Breakfast
6 peaches, halved and pitted, don't peel (It is really important to get freestone peaches, so they separate easily.)
¼ C butter, melted
3 Tbsp cinnamon-sugar mixture
4 oz cream cheese, softened
¼ C sugar
1 egg yolk
1 ½ tsp vanilla
¼ C sliced almonds
Preheat oven to 350 degrees.
Dredge peaches through melted butter and set cut side up in a 9X13-baking dish.
Sprinkle with cinnamon and sugar.
Beat together cream cheese, ¼ C sugar, egg yolk, and vanilla. I use a mini food processor. Dollop filling in the center of each peach, filling the hole.
Sprinkle almonds on top.
Bake until the cheesecake starts to brown, around 30 minutes.