Bread- Cranberry White Chocolate Pecan Bread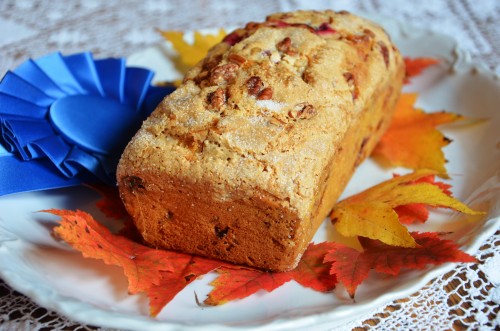 Author:
Gracehill Bed and Breakfast
1 C. sugar
2 tbsp. soft butter
1 egg
¾ C. orange juice (I like it with lots of pulp)
2 C. flour sifted
2 tsp. baking powder
¼ tsp. soda
1 tsp. salt
Zest of two oranges
½ C. white chocolate pieces
¾ C. chopped pecans
9 oz fresh cranberries, or fresh cranberries that you froze. My baking times are based on frozen using frozen cranberries that I buy in bulk around New Years
Cream butter and sugar.
Add egg and beat until fluffy, then add orange juice and beat briefly.
Add baking powder, soda, salt and mix briefly, then add your flour and beat until combined.
Mix in orange zest by hand (otherwise it gets tangled around the beaters) along with the white chocolate pieces and pecans.
Lastly add the cranberries.
Grease and flour two 3 ½" X 7 ½" bread pans.
Cut and put wax paper on bottom.
After placing the batter into the bread pan, sprinkle about a teaspoon of sugar on top of the batter to crisp the top while baking.
Bake at 350 for 65 to 85 minutes if the fresh cranberries are frozen. Test with toothpick at about the 1 hour mark, every oven is different.
Let cool for 20 minutes before flipping out of the pan and peeling off the wax paper.
The bread cuts better if it has cooled down completely and the bread freezes beautifully.