General Awards
2002- Best Mountain View, Inn Traveler Magazine
2003- Bravo Award for beautiful gardens from Keep Blount Beautiful and the Blount County Council of Garden Clubs
2003- Most Scenic View, Inn Traveler Magazine
2004- First Place, Best Scenic View from a B&B in the United States, Inn Traveler Magazine
2008 "providing stellar Foliage Views along with the finest in accommodations and hospitality" from BedandBreakast.com
2010- Best Bed & Breakfast in East Tennessee WBIR NBC TV, watcher's choice
2010 2011 2012 2013 2014 2015 2016 2017- Certificate of Excellence Award for a 5 star rating on Trip Advisor
2011 Blount County Chamber of Commerce, Excellence Award 5 Businesses w/under 5 Employee's
Culinary Awards
2011- Second Place, Tea Cakes, Plain
2011- Second Place, Elvis Presley's Favorite Pound Cake
2014- First Place, Chocolate Chip Pecan Cookies
2014- First Place- Peanut Sq Tea Cakes
2015- First Place- Lemon Pistachio Tea Cakes
2016- First Place- English Toffee
2016- Third Place- Cranberry Caramelized Pecan Pound Cake
2017- First Place- Pound Cake
2017- Second Place- Butterscotch Caramel Toasted Pecan Muffins
2017- Second Place- Chocolate Orange Macadamia Bread
2017- Third Place- Maple Pecan Cookies
2018- First Place Custard Pie
2018- First Place- Carrot Muffins
2018- Second Place- Key Lime Pie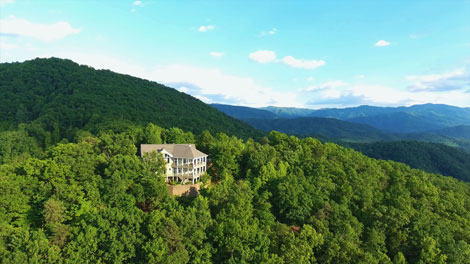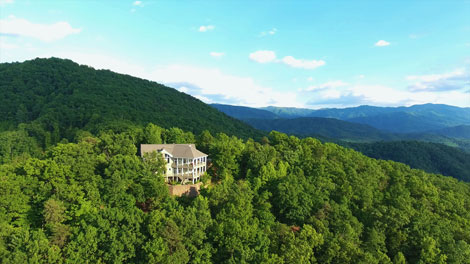 (Scroll down for more photos)
Gracehill Bed and Breakfast, two and half years in the making, was newly opened Thanksgiving of 2000. Imaginative and innovative this Smoky Mountain Inn is a luxury, romantic accommodation. Without using a lot of adjectives we are hopeful the facilities will meet and hopefully exceed your expectations.
The exterior is cedar shake siding and 200 tons of mountain dry stack stone. The interior is light filled with floor to ceiling windows. Gracehill Bed and Breakfast is decorated with an eclectic blend of antiques and contains tin ceilings, stacked stone, stained glass, original art, and 12 foot high ceilings are found through out.
The patios are local tumbled marble. The landscaping starts on the approach, winding up the side of Little Round Top Mountain. Other than the 80 bush formal rose garden the landscaping and water features are natural and blend into the woods.
Gracehill has enough covered verandas (2000 sq ft), patios, and gardens for each guest to sit and contemplate life in solitude. The privacy is second only to the view. Although we are in the country there is nothing "country" about upscale Gracehill! Black Tie Class with Blue Jean Comfort…
Amenities
Wi-Fi wireless internet access, a computer for guest use along with a FAX and copy machine
Private baths each with a whirlpool tub, some with separate shower or steam shower
Most rooms with fireplaces
In room satellite TV's, all with HD flat screens and Blu-ray DVD players
Fitness & Massage Center
Library and games
Smokeless interior, smoking outside on the verandas permitted
Sorry, pets cannot be accommodated, kennel nearby
Free U.S. long distance phone service
Complimentary stocked snack area including a refrigerator, ice maker, microwave, Keurig coffee machine, & toaster oven
King or twin accommodations
Hair dryers, bathrobes, and toiletries
Distilled water for CPAP breathing machines
All rooms have outside entrances onto verandas, balconies, or patios
Iron, ironing board, and laundry facilities
Children age 10 and older welcome, unless taking 3 rooms or more, then any age