Smoky Mountain Highland Games at
Maryville College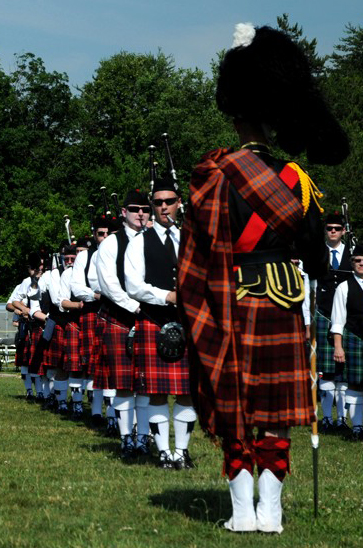 Both the Smoky Mountain Highland Games, held on the
campus of Maryville College, and TroutFest at the Townsend Visitor Center were both rousing successes this past weekend. With three couples staying at Gracehill, we ran the gamut in activities AND lack thereof! One local couple never left the property once they arrived and spent the time planning a trip outside the U.S. Another, staying for four days, and in the area for the first time, jammed in as much as they could from Chattanooga to the Museum of Appalachia. The third couple, Jennifer and Barry Burgess, here again for TroutFest, also attended the Highland Games. They graciously let me use Barry's photo at left. He loves fishing, she loves kayaking. When they returned to the B&B on Friday, Barry mentioned he caught quite a few trout. I said, "I thought you went kayaking." Definition of multi-tasking follows: he said, "We did! Caught them while we floated downstream" in...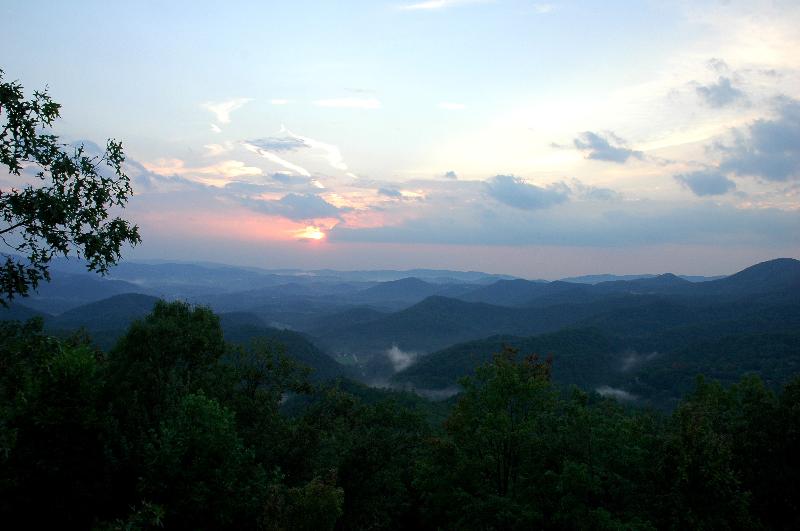 Yes, I Know You Come For the View, but This Time of Year,
It's All About the Gardens...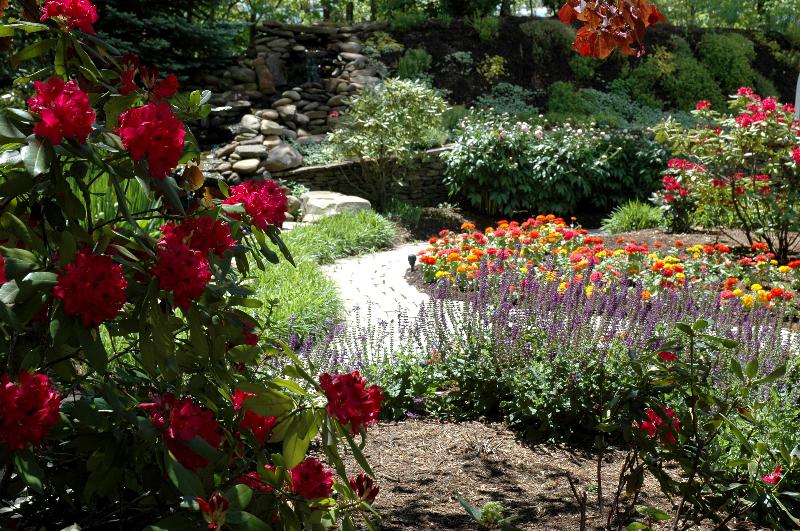 Rear Patio, Rhododendron, May Night Salvia, and Zinnias Are All Blooming
Four

more

:-)

Baking Awards Come to Gracehill !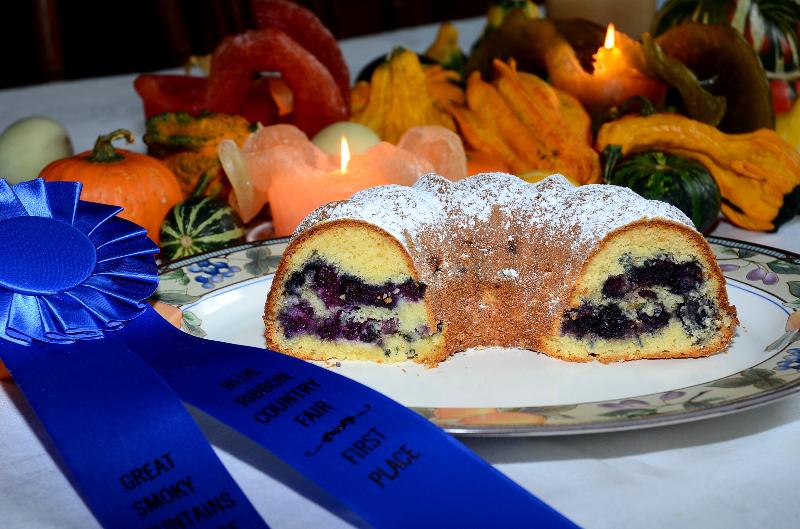 Blueberry Almond Coffee Cake and It's Blueberry Picking Season!
This is the third year in a row I've written about blueberry recipes. I guess when you have a winner you don't rock the boat, and I do love those little blue suckers! We are freezing about a 100 pounds a year from our local U pick at Falls Blueberry Farm (check hours and days open before going). At the Blue Ribbon Country Fair last fall, we picked up a first place ribbon for the Blueberry Almond Coffee Cake, pictured above, won second place for our Tea Cakes, and a second place for Elvis Presley's favorite pound cake.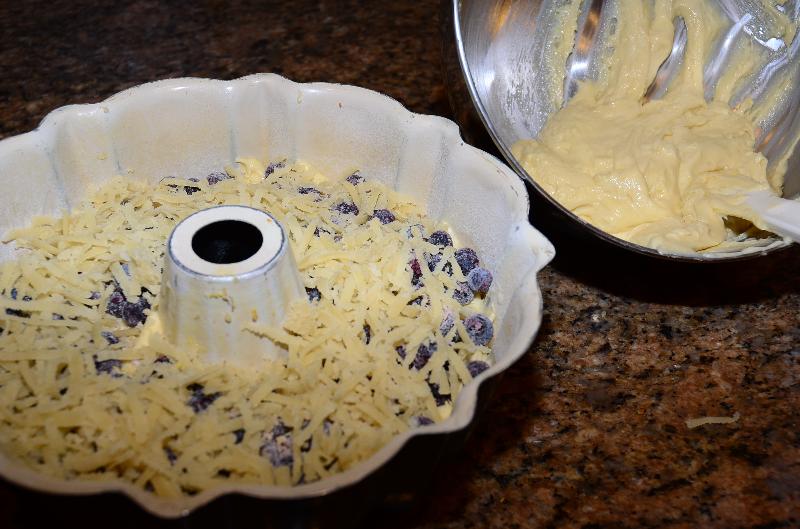 Layers of dough, blueberries, grated almond paste, repeated and finished of with a layer of dough.
So- for three years in a row at the Fair, we've taken home 1st, 2nd, and 3rd place ribbons in the "pound cake division". I suppose I should try baking something else. My favorite pound cake was the 3rd place finisher which contained, what else? Blueberries of course!
Oops! Corrected Link to Now
World FAMOUS Pancakes.
Last month I included the recipe for Pumpkin Pancakes with a bad link. In the meantime, I entered the recipe in BedandBreakfast.com's Facebook Breakfast Recipe Contest. Conducted like "March Madness", with 30,000+ people voting over several weeks, we missed first place by 35 votes.
Runner up in an international cook off works for me, with the credit going to this great tasting and easy to prepare recipe!
Don't wait for Thanksgiving to try them.
Gracehill Bed & Breakfast
1169 Little Round Top Way
Kathleen Janke,
Owner-Innkeeper
toll free (866) 448-3070

Follow us on

Upcoming Events
Complete class listing of the Smoky Mountain Field School
June 2, Townsend Smoky Mountains Pottery Festival Townsend Visitor Center, all day
June 2, Townsend Heritage Happening Great Smoky Mountains Heritage Center, fundraiser starts at 5:30PM
June 8-9, Pigeon Forge, Pontiac Show, Music Road Convention Center
June 15, Pigeon Forge, Ronnie McDowell, T Graham Brown & Jimmy Fortune in Concert
June 18-19,

Sevierville,

Bloomin BBQ and Bluegrass
June 23-24,

Townsend

Nawger Nob Arts & Crafts Show
July 3 midnight, Gatlinburg 4th of July Parade
July 4, Gatlinburg River Raft Regatta
July 4, Gatlinburg Fireworks
July 6, Pigeon Forge Mel Tillis in Concert
July 13-15 Maryville Smoky Mountain Classic Softball
July 20-29, Gatlinburg Craftsmen's Fair
July 27, Pigeon Forge George Jones in Concert
Aug 11-12 Maryville Civil War Encampment
August 23-25, Gatlinburg, Smoky Mountain

Songwriters Festival

August 24, Pigeon Forge, Mickey Gilley in Concert
Sept 4-8 Sevierville, County Fair
Sept 7-8, Maryville, New Midland Plaza Art and Craft Fair
Sept 7-8, Pigeon Forge Shades of the Past, Classic Cars
Sept 14-16, Pigeon Forge Grand Fall Rod Run
Sept 21-22, Pigeon Forge, Don Williams Concert
Sept 27 Gatlinburg, Taste of Autumn
September 28-29, Townsend,Fall Heritage Festival and Old Timers Day in Cades Cove
Sept 29, Townsend, Blue Ribbon Country Fair, Great Smoky Mountains Heritage Center
Sept 29, Townsend, Railroad Days
September 29-30, Townsend, Nawger Nob Arts and Crafts Show
Sept 29-30, Pigeon Forge, 13th Annual Fall Smoky Mountain Trout Tournament
Oct 6-7, Townsend, Smoky Mountain Wood Carver's Festival
October 11-28, Gatlinburg, Craftsmen's Fair
October 12-14, Maryville, Foothills Fall Festival
October 20,
Maryville College Harvest Craft Fair