Mountain Music, Storms and Awards!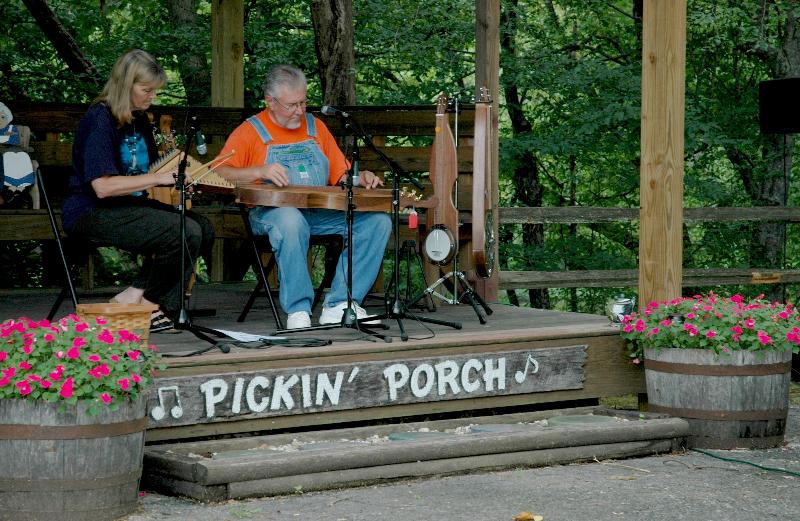 Mike and Connie Clemmer with the Pickin' Porch
Three years in a row Gracehill has won TripAdvisors highest 5 star rating. We could not have done it without the very generous reviews that our guests have taken the time to write. Thank you from the bottom of our hearts.
We had one heck of a storm July 5th, and are still cleaning up downed trees in the woods along the road that ten minutes of havoc wrought. Don't think many of you would notice that 30 beauties are now firewood, but on the upside, we have a whole new view from the back yard.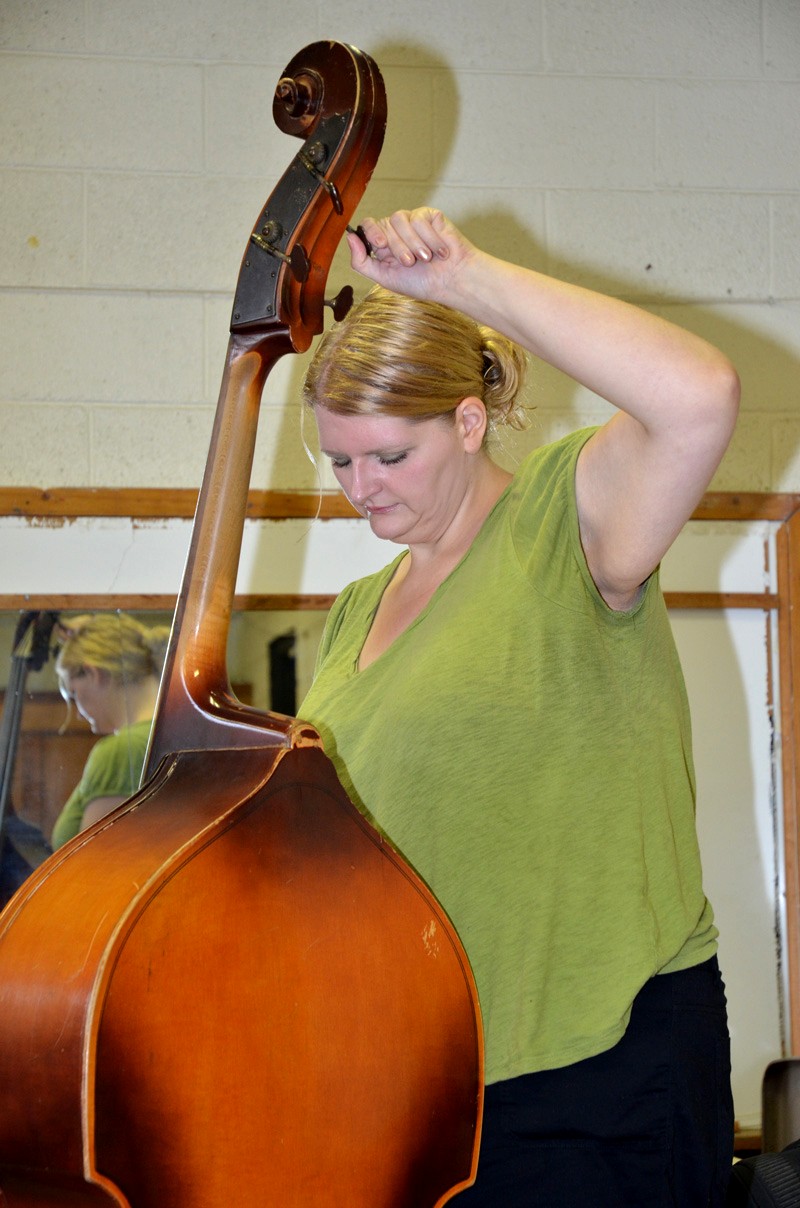 Rocky Branch Community Center, Walland, TN, Friday Nights
A guest recently asked if we hosted music at the B&B. She plays in the Knoxville Symphony Orchestra. Not usually I replied, but the area is surrounded by music. Three such venues are-- Mike and Connie Clemmer have the Pickin' Porch, May through September 22nd, every Saturday night 7PM to 8ish, behind their Wood N' Strings Dulcimer Shop on Hwy 321 in Townsend. The Clemmers play the first half hour with instruments Mike has made, and guest musicians from all over the world play for the last half hour or so.

The Great Smoky Mountains Heritage Center has eight weeks of summer concerts June, July and August. Three fall concerts are scheduled for September 7th, 14th, and 21st, 2012, Friday nights at 7PM, admission is $5.00. Their Appalachian and mountain music is heavy bluegrass with some gospel and country. You won't find the Beatles featured!

Popping into the Rocky Branch Community Center in Walland was the most surprising music venue for me. How could I have lived in Blount County for over 25 years and not known about Friday nights here, year around? In several rooms of the old elementary school, there is the ultimate in Appalachian jamming. Musicians move from room to room joining this group or that. The young lady above lent her guitar to a friend who walked in without one and whipped out the bass above. Donation at the door, and food in the gym! More in a blog later.

If three couples would like to book rooms here together for a couple of nights, I'd be happy to look into a harpist or string quartet with...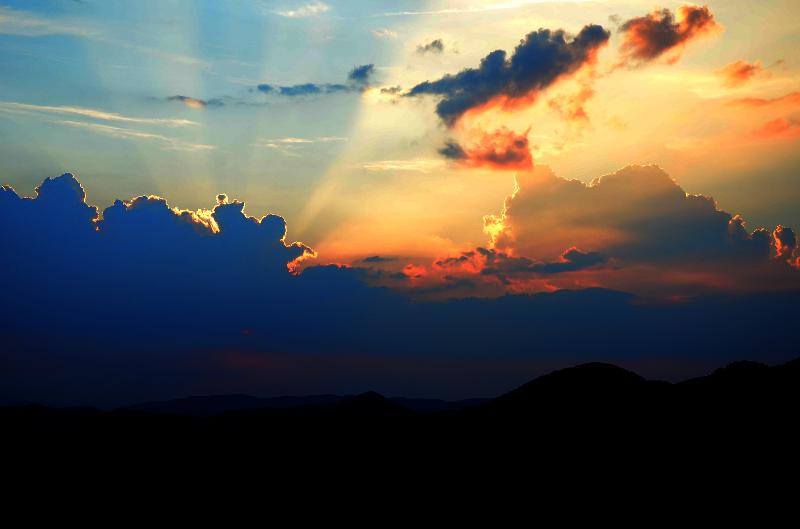 Townsend and Park Firefighters were battling a forest fire on the other side of Townsend. No structures were in danger, but in the dry conditions we were experiencing, it was burning off and on for a few days. It made for a spectacular sunset the first night.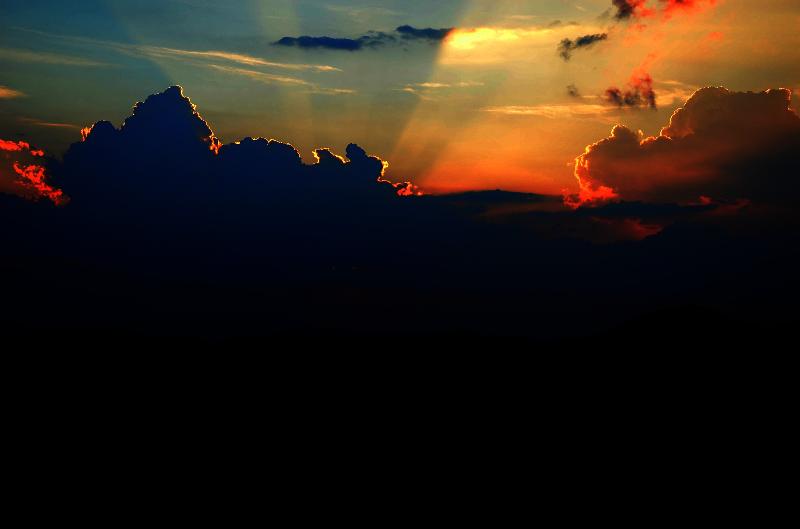 Here is a four minute
video of my
favorite sunsets
from the first ten years of living at Gracehill. Hope you enjoy it as much as I do! Feel free to pass on the link. Surely if a child can make a video that goes viral I can too!
Fresh Veggies & Two of my Favorite Tomato Recipes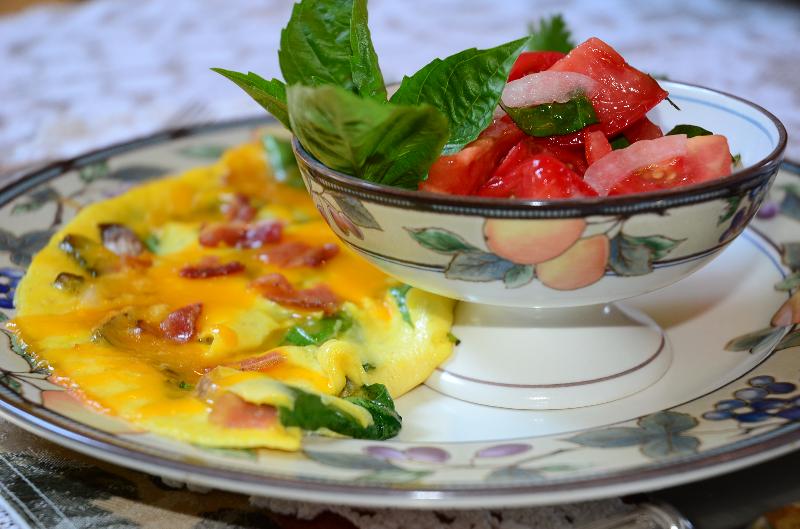 Tomato, Onion, & Basil Salad with a Spinach, Bacon and Cheese Omelet.
For those who want to split hairs, tomatoes are technically a fruit. But, I like keeping hair out of the kitchen. If there was one thing I could change about living on top of a mountain, it would be more flat ground for a bigger vegetable garden. We always plant tomatoes and peppers, but this year was less than stellar and each tomato is a little gift. You can make the Tomato Salad shown above with dried basil, but it is spectacular with fresh basil from the garden. The Tomato Soup recipe is my all time favorite soup. The ingredients can be a surprise for those who don't have fresh tomatoes!
Gracehill Bed & Breakfast
1169 Little Round Top Way
Kathleen Janke,
Owner-Innkeeper
toll free (866) 448-3070

Follow us on
Upcoming Events
Complete class listing of the Smoky Mountain Field School
August 31-Sept 2 Gatlinburg, Fine Arts Festival
Sept 4-8 Sevierville, County Fair
Sept 7-8, Maryville, New Midland Plaza Art and Craft Fair
Sept 7-8, Pigeon Forge Shades of the Past, Classic Cars
Sept 14-16, Pigeon Forge Grand Fall Rod Run
Sept 21-22, Pigeon Forge, Don Williams Concert
Sept 27 Gatlinburg, Taste of Autumn
Sept 28-29, Townsend,Fall Heritage Festival and Old Timers Day in Cades Cove
Sept 29, Townsend, Blue Ribbon Country Fair, GSM Heritage Center
Sept 29, Townsend, Railroad Days
Sept 29-30, Townsend, Nawger Nob Arts & Crafts Show
Sept 29-30, Pigeon Forge, 13th Annual Fall Smoky Mountain Trout Tournament
Oct 3 to Nov 3, Pigeon Forge, Dollywood's Month long National Southern Gospel & Harvest Celebration
Oct 6-7, Townsend, Smoky Mountain Wood Carver's Festival
Oct 11-28, Gatlinburg, Craftsmen's Fair
Oct 12-14, Maryville, Foothills Fall Festival
Oct 12-14, Norris, Museum of Appalachia Homecoming
Oct 19, Townsend, Mountain Home Tour, by the GSM Heritage Guild
Oct 20, Maryville College Harvest Craft Fair
Oct 26, Pigeon Forge, Ray Stevens in Concert
Nov 7, Gatlinburg, Winter Magic Kickoff & Chili Cook-off 5PM
Nov 11 to Dec 30, Pigeon Forge, Dollywood's Smoky Mountain Christmas Festival
Nov 21 to Dec 2, Gatlinburg, Great Smoky Christmas Arts & Crafts Show
Dec 1, Maryville, Sam Houston Schoolhouse Candlelight Tours
Dec 2, Townsend Christmas Parade 2:30PM
Dec 31, Gatlinburg, Ball Drop and Fireworks