For the Filling:
6 oz of almond paste, that has been frozen
2 C of blueberries
1 T flour
the zest from 2 lemons
For the Cake Batter:
2 C all-purpose flour
2 t baking powder
1/2 t baking soda
¼ t salt
1 ½ sticks butter (12T) room temperature
1 ¼ cup sugar
2 large eggs
1 t vanilla extract
1 C sour cream
2 T powder sugar for dusting cake
Preheat oven to 350 degrees.  Spray and flour a 10" bundt pan.  Put the almond paste in the freezer.  Mix the blueberries with 1 T of flour and the lemon zest and put to one side.  Beat together the butter and sugar till smooth.  Add eggs one at a time and while scrapping down the bowl beat till light and fluffy.  Add vanilla and beat.  Sift the 2 C of flour, salt, baking powder and baking soda together, then alternate between adding and mixing in the dry ingredients and the sour cream.  (End with the flour.)  Spoon 1/3 of the batter into to the bundt pan.  Layer ½ of the almond paste by grating it onto the batter, then ½ of the blueberry mix.  Add another 1/3 layer of batter, then the rest of the almond paste and blueberries.  Finish with last 1/3 of batter.  Bake for around an hour, test with a toothpick.  Cool for about 20 minutes, then flip onto a plate and dust with powder sugar. 
www.GracehillBandB.com   865-448-3070   info@GracehillBandB.com
3 cups all purpose flour
1 tsp baking powder
½ tsp baking soda
½ tsp salt
1 ½ C (3 sticks) unsalted butter, room temp
1 8oz package of cream cheese, room temp
3 C superfine or castor sugar*
6 large eggs, room temp
1 Tbsp vanilla extract
zest of an orange
Butter and flour a bundt pan.  Sift together, flour, baking powder, soda and salt.  With an electric mixer beat butter and cream cheese until smooth.  Add sugar in three additions beating well after each.  Continue to beat on medium high speed until light and fluffy about 5 minutes.  Add eggs, one at a time, mixing well after each addition.  Add vanilla and beat in.  Add flour mixture and mix just until incorporated.  Hand stir in orange zest or it gets tangled up in your beaters.  Pour into a bundt pan and bake at 350 for about 65 to 70 minutes.  Let set about 20 minutes before inverting.  Wonderful with fruit and whip cream or you could put a glaze on it made from Orange Juice and powdered sugar.
* If you don't have castor or superfine sugar you can put the 3 cups of sugar into a food processor and run for about a minute.
www.GracehillBandB.com info@GracehillBandB.com   865-448-3070
¾ C Brown Sugar
1 Tbsp Flour
½ tsp Salt
1 tsp Cinnamon
½ tsp Nutmeg
½ tsp Ginger
1/4 tsp Cloves
1 ½ C Pumpkin
1 ½ C Evaporated Milk
1 Slightly Beaten Egg
2 Tbsp Molasses
Stir together until smooth, this will make an 8" pie.  For a 10" pie plate, make half again as much.  For the crust I use 6 cups of flour to 1# lard and 2 tsp of salt ratio.  Use cold water to form a ball.  Roll out, place in pie plate, flute edges, and pour batter in pie plate.   Bake at 450 for 10 minutes, then 325 for 55 minutes or until a knife inserted comes out fairly clean.

www.GracehillBandB.com info@GracehillBandB.com   865-448-3070
Kathy's Note: What is nice about this recipe is you can make as little or as much as you would like. Plus it freezes well. You can make an 8″ pie (serves 6 easily) or 9 to 10″ pie (serves 8 to 10 easily) or little individual oval Pyrex ramekins. Once made, they can be baked or frozen and baked later. For speed on a busy morning, you can mix dry ingredients ahead of time.
Crust:
1 pound lard
cold milk
6 cups flour
1 beaten egg yolk
2 teaspoons of salt
Cut lard, flour and salt into each other using a pastry blender. Then divide up in 2 or 3 containers and place in the refrigerator. This will keep for months and will make 2 to 3 pies. When ready to make one take out one container and pour into a cold bowl and stir in with a fork enough cold milk to form a ball and leave the sides of the bowl. Divide into 2 pieces, roll out on a floured surface and place in the bottom of the pastry dish. Fill with filling below, then roll out rest of pie dough and top. Brush the top with beaten egg yolk. Cut a few slits. I take the left over rolled out dough and cut hearts out of it for "romance package guests" or cookie cutters of leaves for others. Place cut outs on top of the top crust. The crust with the egg yolk brushed on becomes a deep golden brown while the cut outs will remain lighter letting them stand out better.
Filling:
1/2 cup granulated sugar
3 granny smith apples sliced thin
1/2 cup packed brown sugar
1 or 2 16oz packages of bulk pork sausage for an 8″ pie or 4 ramekins
1/3 cup flour
1 teaspoon ground cinnamon
1/2 cup chopped onion
1/4 teaspoon ground nutmeg
Mix dry ingredients above well. This is plenty for a 9 to 10″ pie. I usually double this and store in a plastic bag. When I make an 8 " pie or individual little ramekins I use just what I need to heavily coat the apples. Use 2 1/2 to 3 apples for a 9 to 10 " pie, 2 for an 8″ pie and half an apple for each individual pie. Brown sausage and onion together. Drain well placing the browned sausage in a sieve and pressing on it with a spoon. Put a layer of the sausage mixture on the bottom of the pie dough. Place a layer of coated apples on top of it, then more sausage and finish with another layer of apples before placing the top pie crust on. Fold and roll the top edge under the lower edge, pressing on the rim to seal. Flute edges. Bake for 30 minutes at 425 then reduce temperature to 350 and bake another 30 minutes.
Note: To save time you can use premade crusts found in the refrigerator section of your grocery store.
www.GracehillBandB.com info@GracehillBandB.com  865-448-3070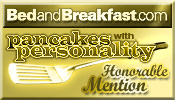 2 cups of flour (sift before measuring)
1 teaspoon of salt
1/4 cup powdered sugar
3 teaspoons of baking powder
¼ cup butter very soft
3 eggs
1 ¾ cup half and half (goat milk may be substituted for lactose intolerant guests)
8oz of goat cheese
1 tsp lemon extract
2 cups fresh or frozen blueberries (read second tip below before using frozen)
Mix with an electric mixer softened butter, half and half, and eggs. Crumble goat cheese into mix and blend together, some lumps are okay. Add lemon extract and all dry ingredients except flour and beat. Briefly beat in flour just until mixed, again some lumps are okay. At this point the batter maybe refrigerated for several hours.
TIPS:  I use a 1.5oz ladle (filled) for scooping out the batter to stay consistent.  Other than the batter not being too thin or too thick, probably the most important thing is the temperature of your griddle.  Your griddle is hot enough if water will spatter when dropped on it.  If it just boils it's not hot enough.   I use a scant amount of generic spray pan release on the griddle.  Once the batter is on the griddle, I drop the blueberries onto the 4″ circle of pancake batter.  You can also garnish the plate with blueberries.  Or, don't put any on top of the batter at all and just put them on top of the finished pancakes.  If you eat the pancakes without blueberries you can taste the lemon a little bit more.  You can make these pancakes without the lemon extract but I think the lemon really accents the blueberries.  This recipe is great for lactose intolerant guests, just substitute goats milks for the half and half.  For syrup you can use regular maple syrup or blueberry syrup.
TIPS FOR FREEZING BLUEBERRIES: I pick blueberries every summer and freeze them for use all year long. The trick to freezing them is to use an orchard where they don't spray any of their bushes. After picking, DO NOT WASH them, furthermore, spread them out on trays and let them air dry for a day. When they are totally dry, pick out any remaining stems or leaves as you place them into plastic containers. They will last for a year or better in the freezer. You can take these right out of the freezer (they will be loose, not stuck together), measure out what you need and put the rest back in the freezer. The frozen fruit you buy in the store can be wet and mushy because of the preservatives and they are frozen when they are damp.
www.GracehillBandB.com info@GracehillBandB.com 865-448-3070
1 ½ cups half and half
¼ cup water
¼ cup melted butter
4 to 4 ½ cups all-purpose flour, divided
2 t sugar
½ t salt
1 package rapid rise yeast
¼ cup butter softened
6 oz feta cheese grated
2 T butter melted
Fresh cut up or diced rosemary
Melt ¼ cup butter in saucepan.  Add milk and water and bring temp to between 120-130 degrees F.  Remove from stove.  In a separate mixing bowl combine 2 cups flour, sugar, salt and yeast.  Add the liquid mixture and beat at low speed with an electric mixer until blended.  Beat another 2 minutes at medium speed.  Stir in enough remaining flour to make soft dough.  Turn dough out onto a floured surface; knead lightly 4 or 5 times.This recipe makes best as 2 long skinny loaves of French bread.  It is possible to make it in a bread pan, which I had to do to enter it in our county fair.  See attached photo.  If made as French loaves, divide dough in half and roll out into a 16" by 8" rectangle.  Brush each of the rectangles with 2 T of softened butter.  Sprinkle 3 oz of feta on each rectangle and sprinkle on fresh rosemary to taste.  Roll up jellyroll fashion on the long side pinching ends to seal.  Place dough seam side down on a lightly greased French bread pan or on a large baking sheet.  Brush each loaf with the last of the melted butter.
Cover and let rise in a warm place 85 to 100 degrees for 45 minutes or until doubled in size.  Bake uncovered 375 for 15 minutes, then reduce temp to 350 and bake an additional 20 more minutes or until loaves sound hollow when taped.  Remove from pans and cool on wire racks.
www.GracehillBandB.com info@GracehillBandB.com 865-448-3070
Whipped Cream-
Half pint of Whipped Cream
¼ t of Vanilla
1 t Sugar
Using a bowl and beaters that have been cooled in the fridge for a while, beat on high speed the whip cream, vanilla, and sugar.  When stiff set bowl back in fridge.
Caramelized Pecans-
1/4 C of Butter
1/4 C of Brown Sugar
2 C Pecan Halves
Melt butter over stove then stir in brown sugar.  When dissolved add 2 cups of pecans and stir for 2 to 3 minutes until caramelized.  Turn pecans out onto a piece of wax paper to cool separating them with a fork.  (Any leftovers will keep well the fridge.  They are nice sprinkled on top of salads also.)
Ginger Syrup-
1 C Brown Sugar
½ C of Water
2 T Butter
2 T Minced Crystallized Ginger
Melt butter over the stove, and then stir in the brown sugar and water.  When dissolved stir in the ginger.  Continue stirring for 5 to 10 minutes until it starts to thicken.  Take off stove and let set until ready to use.  You may have to reheat if it thickens too much.  (When your guests dribble this syrup on the pancakes a little bit goes a long way.  You don't smother them like you would with regular maple syrup and any leftovers will hold in the fridge till the next time you make these pancakes.) 
Pancakes-
2 C Whole Milk
2 Eggs
3 T Butter, melted
¾ C Canned Pumpkin
1 2/3 C All Purpose Flour
3/4 t Cinnamon
1/8 t Ground Cloves
¼ t Ground Ginger
¼ t Salt
2 t Baking Powder
3 T Brown Sugar
Beat eggs briefly, then add and beat in the milk, butter and pumpkin.  Add all the dry ingredients except the flour and beat.  Add flour last and beat until large lumps disappear.  Heat a large griddle, melt a little butter on it and pour a small amount of batter on the griddle.  Smooth the batter down with a spoon.  (These are very thin pancakes and about 4 inches across.  When done on both sides, arrange about three pancakes on a plate, sprinkle on pecans and then a dollop of whipped cream.  (You can sprinkle a little nutmeg on top of the whipped cream.)  These could also be garnished with orange slices, or a baked apples, etc.  Serve with syrup.  This batter can be made the night before and held for a couple of days in the fridge.
http:// www.GracehillBandB.com   865-448-3070   info@GracehillBandB.com
Cake: ¾ cup butter softened
6 ounces cream cheese, room temp
2 ounces almond paste
2 C sugar
4 eggs
1 ½ C all-purpose flour
1 ½ t baking powder
1 ½ t salt
1 ¾ C fresh or frozen blueberries (but not thawed)
½ C slivered almonds, lightly toastedHeat oven to 350 degree.  Combine butter, cream cheese, almond paste and sugar and cream until fluffy.  Add eggs one at a time and beat.  Add baking powder, salt beat briefly.  Add flour and mix on low speed.   Grease a 12-cup bundt cake pan and sprinkle almonds in the bottom of the bundt pan.  Pour ½ the batter on top of the almonds. Flour the blueberries and fold into remaining batter by hand.  Put on top of the other layer in the bundt pan.  The blueberries have a tendency to sink and most will end up on the bottom, or top of the cake when you flip it, this slows that down a little bit. Bake for an hour.  Let cool for 10-15 minutes before flipping out of bundt pan.  Drizzle with glaze.
Lemon Flavored Glaze: 1-2 C Powder sugar
2 T lemon juice
Comments according to B&B Chef Extraordinaire mizkathleen:
I pick our blueberries each summer and freeze around 80# worth.  I don't thaw the blueberries in this recipe; I use them frozen.  Particularly store bought blueberries get mushy once they are thawed.  Of course if you pick and freeze your own they stay firmer because they are dry and don't have preservatives on them when frozen, but I still use them frozen which may explain why I bake it a lot longer than 60 minutes.  60 to 75 minutes is more like it.
www.GracehillBandB.com info@GracehillBandB.com 865-448-3070