Fall is our busiest season with color change.  Current openings for the month of October: 1 night open on the 26th then full until the week of Sun, Oct 29th.  From the 29th to Fri, Nov 3rd we have one room for 4 nights, another room open for two nights and one room for one night. We should be close to peak color the last week of October and first week of  November for our elevation.  Best to call for reservations, 865-448-3070, any time BEFORE 9PM.  Thanks….
Fall is a glorious time of year to visit our Smoky Mountain Inn, Gracehill Bed and Breakfast, a Townsend, TN, B&B, with a 360-degree view. We are the highest home in the county and border the Great Smoky Mountains National Park. We've won 35 different awards from culinary (28) to gardens and service. Our favorite is, three years in a row, "Best Scenic View from a B&B in the United States" from Inn Traveler magazine. Your privacy is second only to the view.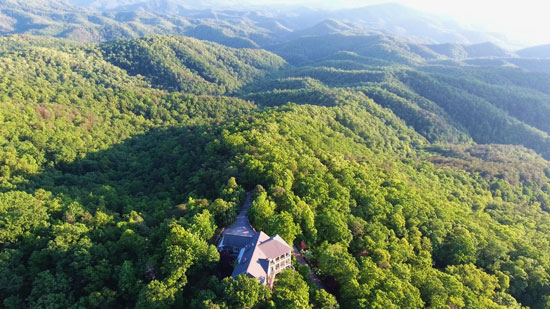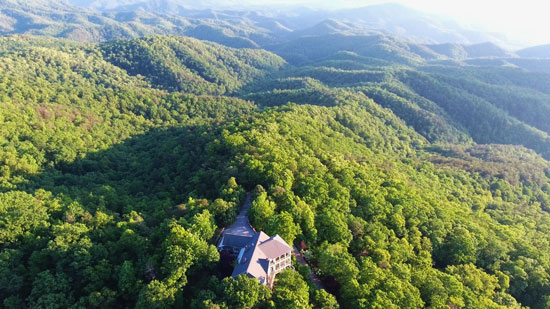 Activities set the stage, nature steals the show. Please allow us to share this beautiful area with you. Our Day Trips page has 18 different ways you can spend a full day, and that is the tip of the iceberg. We are in the middle of a triangle formed by Gatlinburg, Pigeon Forge, and Townsend, and we are only minutes from all three. Select Townsend, the "Peaceful Side of the Smokies", and you have the natural beauty and serenity of the Cades Cove entrance to the Smoky Mountains National Park. Spend a day at leisure and feel you have stepped back in time, or, there is auto touring, hiking, biking, fly-fishing, tubing, kayaking, caving, strolling the bike trail, and touring the Great Smoky Mountains Heritage Center and Museum! Heading in the other direction, Gracehill Bed and Breakfast is only eleven miles from a "shop till you drop" experience in Pigeon Forge. Music theaters, outlet malls, and Dollywood are but 20 minutes away. Take a little-used entrance to the Great Smoky Mountains National Park and drive gorgeous River Road to Gatlinburg only 15 miles away. Fine restaurants, shopping, the aquarium, the arts and crafts community, and Roaring Fork Motor Nature Trail are the best Gatlinburg, TN has to offer. Flying in? Knoxville's McGee Tyson Airport is 35 minutes away and a private airfield is 15 miles from the B&B in Sevierville. Maryville College is a 30 minute drive, The Great Smoky Mountain Institute at Tremont 15 minutes, and the University of Tennessee 50 minutes.
A beautiful sunrise, an elegant breakfast, a day spent doing nothing or everything and the romance of watching the sun go down over the mountain ranges of the Great Smokies. An intimate setting in a place of grandeur. Our photos, and Sunset Video, all taken on the property, speak a thousand words…. with


Save
Recent Posts
I have had a number of vegans over the years and certainly a lot of vegetarians, gluten free, lactose intolerant guests and just about every diet under the sun. One guest was on an elimination diet and by the time she stayed with me she was up to 23 food items she could combine!

The Friends of the Mary E. Tippitt Memorial Library in Townsend, TN, a group who helps support one of two public Blount County Libraries, have scored another successful event on March 19, 2016 with their third annual Shakespeare Festival. After presenting THE TAMING OF THE SHREW in 2014 and MUCH ADO ABOUT NOTHING in 2015, […]

Dolly Parton's song, COAT OF MANY COLORS, tells of her mother taking bits of cloth and creating a patchwork quilt coat for her daughter.  In addition to being a nice song, Dolly's patchwork coat represents the skills of mountain women and men who stitch together works of art that are displayed annually in Pigeon Forge.  […]