Muffins- Blueberry, regular or gluten free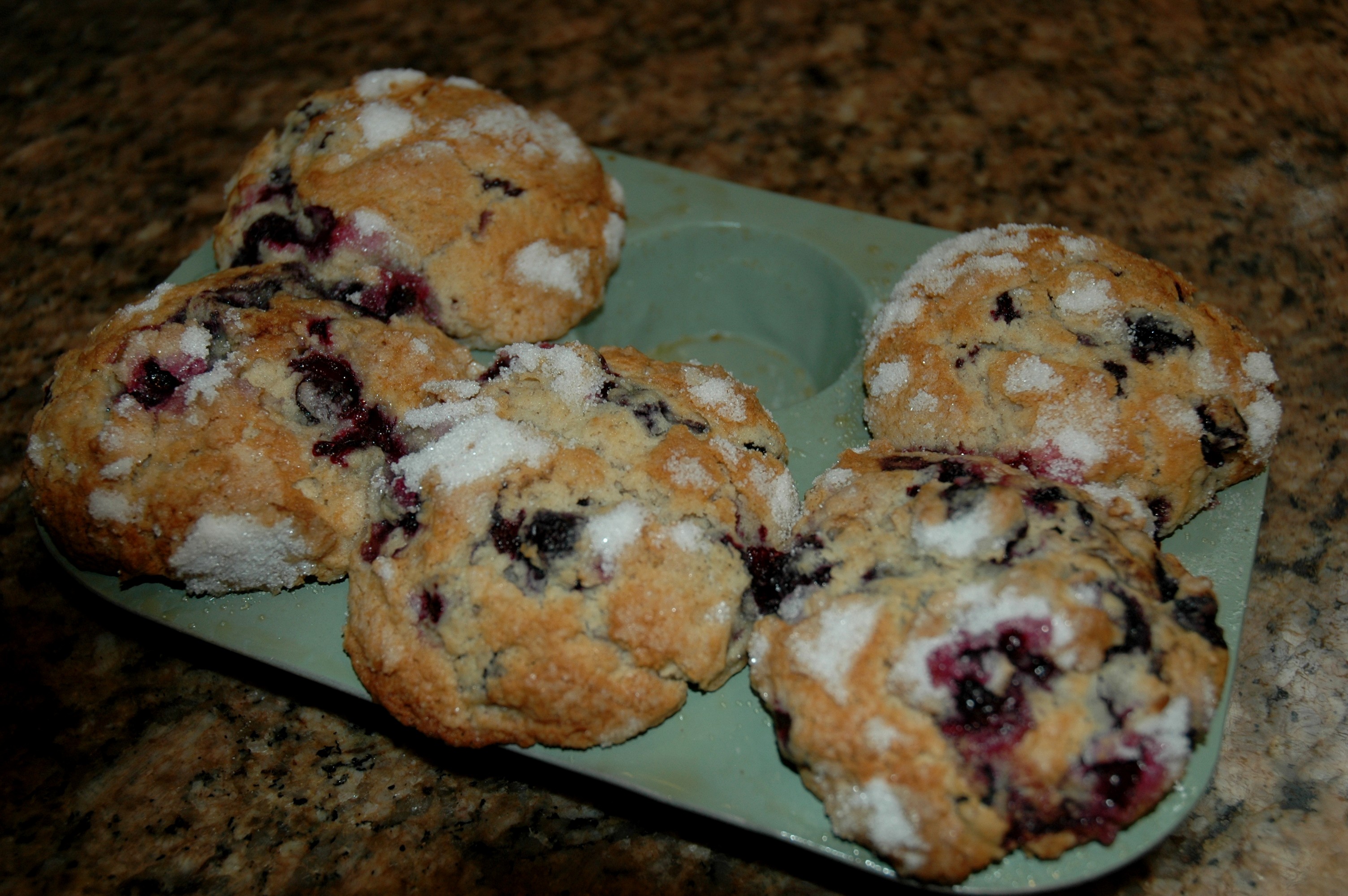 Ingredients
½ C Butter, softened
1 C sugar
2 eggs
1 tsp vanilla extract
½ C half and half (milk may be substituted)
2 tsp baking powder
½ tsp salt
½ tsp cinnamon
2 C Flour
2 C fresh or frozen blueberries (read tip below before using frozen)
additional sugar for sprinkling on top
Instructions
Cream with an electric mixer butter and sugar.
Beat in eggs, vanilla, and half and half.
Mix in baking powder, salt and cinnamon.
Briefly beat in flour just until mixed.
Hand fold in blueberries.
Use regular size muffin tins.
You can spray the tin and put batter directly into the tin or spray the top area of the tin and use paper lined cups for the wells (The latter works the best.)
Fill cups so they are crowned a little over the top, makes 10 good size muffins. Or, make a half batch like I did shown in the photo above.
Sprinkle tops with additional sugar, (this makes the tops crunchy),
and then bake at 375 degrees F for about 40-45 minutes.
Test with a toothpick. Serve hot with butter.
Notes
Gluten Free Blueberry Muffin Batter vs. Regular
In the photo at left you can see in the top pan about how much batter I use for regular blueberry muffins. Full Batch 10 muffins, ½ batch 5, unless you want to make them slightly smaller.

If you are making gluten free the batter is a lot runnier. See the photo at left, green pan. It will make 6 for a ½ batch or a dozen for a full batch. Substitute McArthur Gluten Free Multi-Purpose Flour for the regular flour. You might have to add an additional ¼ cup to thicken it up a little however that will make it a little more crumbly. Instead of putting in the extra flour you can use 1 teaspoon of Xanthan Gum per full batch. It worked beautifully. If you hadn't told me they were gluten free I wouldn't have known.

You can buy Xanthan Gum which is a binder in the specialty food section. The white and blue box of McArthur Flour is by the regular flour section.

Tip: I pick blueberries every summer and freeze them for use all year long. The trick to freezing them is to use an orchard where they don't spray any of their bushes. After picking DO NOT WASH them, furthermore, spread them out on trays and let them air dry for a day. When they are totally dry, pick out any remaining stems or leaves as you place them into plastic containers. They will last for a year or better. You can take these right out of the freezer (they will be loose, not stuck together), measure out what you need and put the rest back in the freezer. I dump them into the batter above frozen, mix them in, and put them right into the oven. The frozen fruit you buy in the store can be wet and mushy because of the preservatives and they are frozen when they are damp. I would not use store frozen blueberries in this recipe.
Read More