Pecan Granola with Dried Fruit
Author:
Gracehill Bed and Breakfast
I've tried many granola recipes, including adding white or dark chocolate chips, or a recipe similar to this but using coconut oil, dried flake coconut, almonds and different dried fruit. I particularly like this one as some folks have a real aversion to coconut (invokes strong feelings in two of my friends) and some don't want to munch on chocolate with their breakfast. Better as a dry evening snack. At any rate, as with any granola recipe, don't leave out the oil, it really changes the texture, hand chop your nuts, pack it tight on the rimmed baking sheet before baking and lastly, I like storing my dried fruit in a separate Tupperware from the granola itself. Sprinkle it on before you eat each morning. Keeps the cereal crunchier.
Ingredients
⅓ C maple syrup
⅓ C packed light brown sugar
4 t of vanilla extract
½ t of salt
½ c vegetable oil (I like canola)
5 C old fashion rolled oats
2 C coarse chopped pecans
2 C dried fruit (I use Craisins and chopped up dried Apricots, but you could use dried cherries, dates, figs, blue berries, what ever you have a hankering for.)
Instructions
Preheat oven to 325 degrees.
Stir together syrup, brown sugar, salt and vanilla in a large bowl.
Mix in oil.
Add oatmeal and pecans and stir until coated.
Place on a parchment lined lipped cookie sheet. Press down firmly.
Bake about 40 to 45 minutes, turning once halfway through.
Let cool completely, at least an hour before placing in an airtight container.
I keep the cut up dried fruit in a separate container and add to the bowl each morning.
Read More
Fruit- Lemon Crème with Blueberries and Granola Parfait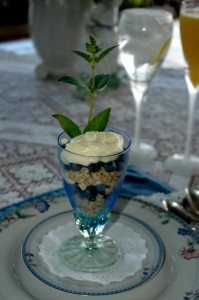 Author:
Gracehill Bed and Breakfast
This recipe makes a lot. I layer in a parfait glass, the crème, fresh blueberries, and the granola two layers each, ending with a third dollop of crème on top. You would have enough crème to do possibly 16 of these. The crème will hold for several days in a tightly sealed container in the fridge.
Ingredients
1 ½ C sugar
¼ C cornstarch
¼ C flour
1 ½ C water
1 C orange juice
½ C lemon juice
4 egg yolks
4 Tbsp butter, softened
2 Tbsp lemon zest
2 C whipping cream
Blueberries
Granola
Instructions
In a 3 to 4 quart pot mix together sugar, cornstarch and flour.
Blend in water, orange juice, and lemon juice until smooth.
Over medium heat, bring mixture to a gentle boil, stirring constantly with a wooden spoon. Simmer for 1-2 minutes. It will be thick.
In a small bowl beat with an electric mixer the 4 egg yolks.
Gradually beat in ½ C of the heated mixture into the egg yolks, and then dump the egg mixture into the pot on the stove.
Cook over low heat to a second boil.
Remove from heat and blend in butter and lemon zest.
Transfer mixture to a bowl and cover with a buttered piece of wax paper.
Cool.
It can be put in the fridge overnight at this point. The next morning, whip the whip cream until firm and blend into cooled lemon mixture.
Refrigerate until ready to use.
Read More