My sister Lisa forced us to eat something healthy at Christmas, in between eating holiday cookies and cakes! She got the recipe from Cook's Country Magazine/America's Test Kitchen.
Brussels Sprout Vinaigrette Salad with Smoked Gouda, Pecans and Dried Cherries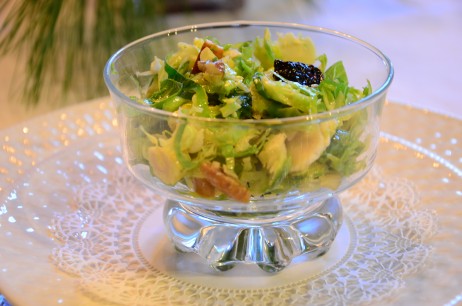 Brussels Sprout Salad with Smoked Gouda, Pecans and Dried Cherries Or with Cheddar, Hazelnuts and Apples
Ingredients
3 tbsp. lemon juice
2 tbsp. Dijon mustard
1 small shallot, minced
1 clove garlic, minced
Salt and pepper
6 tbsp. extra virgin olive oil
2 lbs. Brussels sprouts, trimmed, halved and sliced very thin
4 oz. (1C.) shredded cheese (Gouda or Cheddar recommended)
½ dried cherries or 1 Granny Smith apple, cored and cut into ½ inch pieces
½ C. pecans, toasted, skinned and chopped
Instructions
Whisk lemon juice, mustard, shallot, garlic and ½ tsp. salt together in a large bowl. Slowly whisk in oil until incorporated.
Trim the stem end of each sprout then cut each sprout in half through the cut end. With the flat surface on the cutting board, slice up very thin. We used a food processor. They need to be as thin as possible.
Toss sprouts in with the vinaigrette and let sit for at least 30 minutes, up to 2 hours. Fold in cheese, fruit and nuts. Season with salt and pepper to taste.
Read More
Snacks- Cheerios with Peanuts (or Pecans), Cashews, and Almonds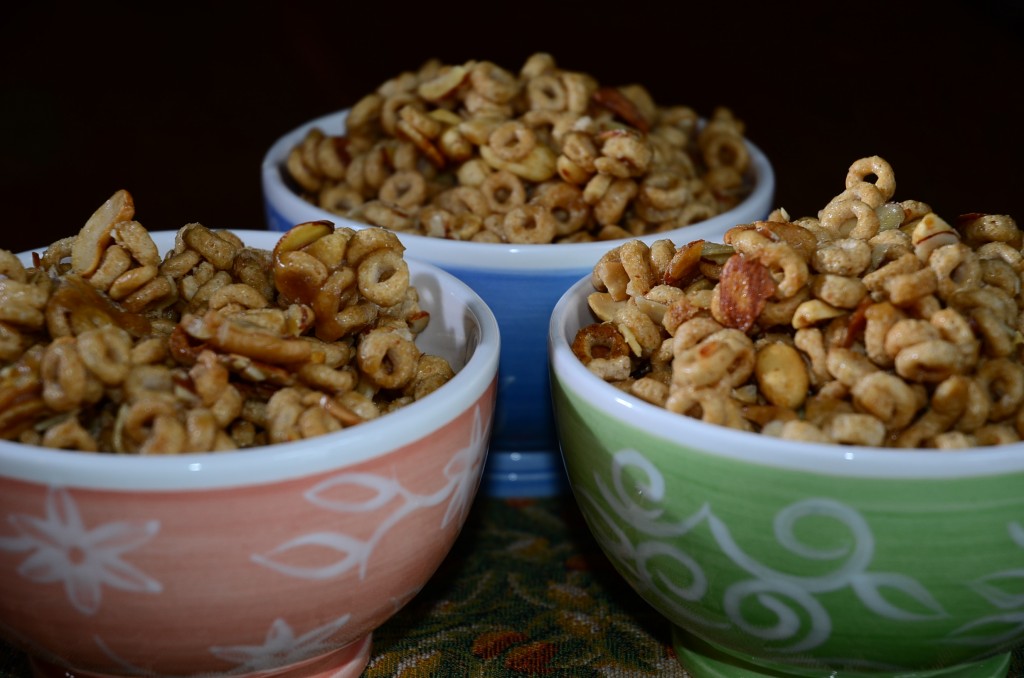 Author:
Gracehill Bed and Breakfast
There always seems to be enough goop to coat everything; you just have to really mix it in the pot for a few minutes.
Ingredients
½ c. brown sugar, packed
½ c. dark corn syrup
¼ c. butter
½ tsp. salt
6 c. Cheerios cereal
1 c. peanuts
½ c. slivered almonds
(The original recipe is above. I usually use
1 cup of peanuts, 1 cup of silvered almonds and 1 cup of cashews. You could use pecans if you have a peanut allergy.
Instructions
Heat oven to 325 degrees.
Brush jelly roll pan, 15½ x 10½ x 1 inch with butter or spray with oil cooking spray.
Melt butter then add brown sugar, corn syrup, and salt in 3 quart, or bigger, saucepan over medium heat, stirring constantly, until sugar is dissolved, about 5 minutes.
When it's bubbling remove from heat. Stir in nuts, then add cereal and stir until well coated.
Spread mixture in the jelly roll pan.
Bake 15 minutes.
Cool 5 to10 minutes; then loosen mixture with metal spatula and break into chunks into a plastic container with a lid. Don't wait too long or you are busting it apart.
Store in the covered container.
I usually freeze it and it lasts for months.
Just scoop out how much you need and leave the rest in the freezer.
About 8-10 cups of snack.
Read More