Soup- Lemon Orzo Chicken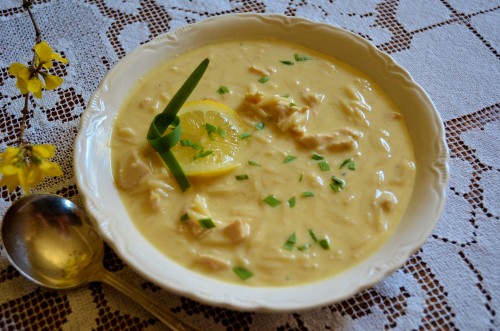 Author:
Gracehill Bed and Breakfast
This is a Greek soup thickened with eggs and lemon juice. If you don't have the little orzo pasta you can substitute with rice. This soup is good with the Romano Pita Pockets recipe I have posted under bread. (The pita pockets could be an appetizer, bread, snack, or used for scooping up dip.)
Ingredients
8 C. of chicken stock
¾ C. orzo or other rice shaped pasta
2 boneless, skinless chicken breasts (between ½ lb. to a 1 lb.) cooked and sliced very thin. It is easier to slice it very thin if you cool the chicken down after cooking.
3 eggs
⅓ C. fresh squeezed lemon juice
1 tbsp. grated lemon zest
2 tbsp. finely chopped fresh parsley for garnish
Instructions
In a large pot bring the stock to a boil then reduce to medium low and add the orzo or rice and cook, uncovered until very tender, 15 to 20 minutes.
Place the eggs in a mixing bowl and whisk.
Continue whisking while pouring in the lemon juice.
Stir in the zest.
While whisking continuously, slowly pour about a ½ cup of the hot stock into the egg mixture.
Turn the heat off and pour the egg mixture into the soup pot while whisking continuously. The soup should thicken slightly. If it doesn't, turn the heat to very low until it thickens. It will thicken more as it cools down. Be careful with the heat or it will curdle the soup.
Add the chicken breast slices.
Season with salt and pepper.
Ladle into bowls and garnish with the parsley.
Read More
Soup- Gluten Free Corn Chowder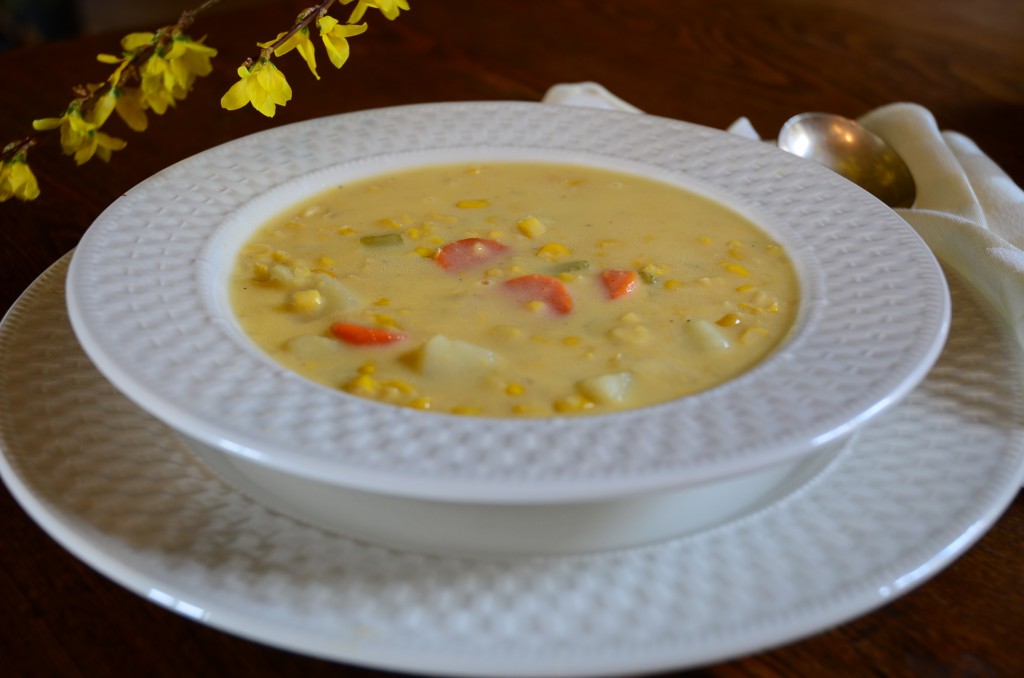 Author:
Gracehill Bed and Breakfast
Serves:
10-11 servings, 2½+ quarts
Ingredients
2 C water
2 C diced peeled potatoes
½ C sliced carrots
½ sliced celery
¼ C chopped onion
1 tsp salt
¼ tsp pepper
¼ C butter
¼ C all-purpose flour
or substitute 2Tbsp of corn starch for the flour for gluten free
2 C milk
3 C (12ounces) shredded cheddar cheese
2 cans (14-3/4 ounces each) cream style corn
1 can while kernel corn
Instructions
I do this whole thing in a pot on the stove or you can follow the microwave directions below.
Place water in a 2-quart microwave-safe dish, cover and heat until boiling.
Add potatoes, carrots, celery, onion, salt and pepper. Cook, uncovered, on high for 8-10 minutes or until veggies are crisp tender; set aside (do not drain.)
Meanwhile, in a 3-quart dish, microwave butter on high for 50-60 seconds or until melted.
Stir in flour until smooth.
Gradually stir in milk. Cook, uncovered, on high for 6-7 minutes or until thickened, stirring every 2 minutes.
Add the cheese. Heat for 1 to 1-1/2 minutes or until the cheese is melted.
Stir in the corn and reserved veggies.
Cook on high for 2-3 minutes or until heated through. Yield 10-11 servings, 2-1/2+ quarts.
Read More