Tart- Tomato Zucchini
Author:
Gracehill Bed and Breakfast
TIP: If you are watching calories, you can get by with a ¼ cup mayo and ¼ cup of cheese. I think this recipe would be great with sauteed sweet onions, or sauteed red pepper, or crisp bacon on it also.
Ingredients
½ (15-oz) package of refrigerated pie crust, or make your own recipe.
1 medium zucchini, thinly sliced about a ½ pound
1-2 tsp of olive oil
2 medium tomatoes, sliced- if using plum, use 3
½ cup fresh basil chopped, or 1 tsp dried basil
⅓ cup mayo or light mayo
⅓ cup (about 1.5- oz) fresh grated Parmesan or Romano cheese
½ tsp freshly ground pepper
Instructions
Fit pie crust into a 9" tart shell, trim excess and prick bottom.
Bake at 450 degrees for 9 to 11 minutes until lightly browned.
Saute' zucchini in hot oil in a large skillet for a few minutes or until tender.
Arrange zucchini on top of pie crust.
Slice and arrange tomatoes on top.
Stir together basil, mayo, and cheese.
Drop by teaspoons over tomatoes and spread gently.
Top with pepper.
Bake an additional 10 to 15 minutes until heated and cheese mixture is slightly melted.
Read More
Side Dish- Fresh Tomato/Basil/Onion Salad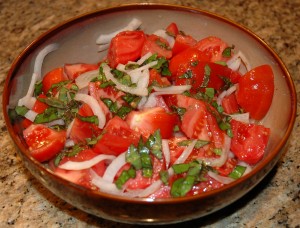 Author:
Gracehill Bed and Breakfast
We make this in the summer when we're picking tomatoes out of our garden...
Ingredients
4 medium tomatoes
¼ medium onion
fresh basil leaves
¼ C. olive oil
¼ C. rice vinegar
¼ tsp garlic salt
1 tsp. Sugar
Instructions
Whisk together olive oil, vinegar, garlic salt and sugar.
Chunk tomatoes, and slice onions very thin.
Snip the basil with scissors into ½ inch pieces.
Layer the tomatoes, onions, and basil in a bowl.
Pour mixture on top.
Garnish with a few big basil leaves.
Read More