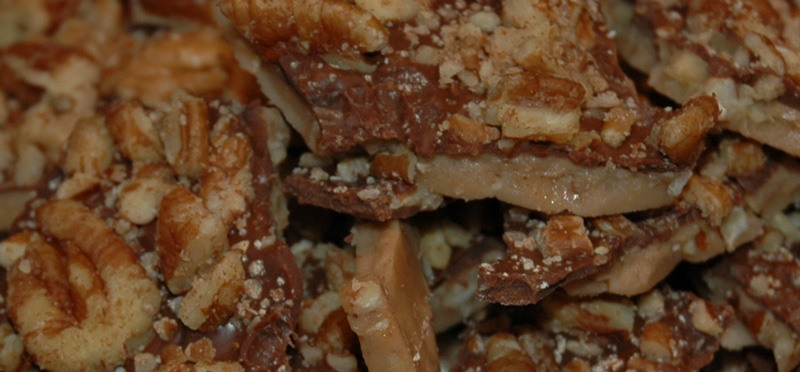 Candy- EnglishToffee
I made English Toffee every year at Christmas for 15 years and thought it was great. Then two years ago I tasted Jan Whitts at a party with the Domino Dames and have never looked back. Mine you could break your dentures on, hers melts in your mouth it is so good. Her tip is not to make it while it's raining.
Author:
Gracehill Bed and Breakfast
Ingredients
3 sticks butter
2 C sugar
1 C water
Crushed pecans
2-3 large Hershey's chocolate bars
Instructions
Melt butter in a heavy pan.
Add the sugar and water and stir, bringing the temperature up to 280 degrees. You have to use a candy thermometer.
Add 5 oz of crushed pecans and take it up to 300 to 310 degrees.
Pour mixture on a granite slab sprayed with canola oil.
Spread immediately with a spatula or a marble rolling pin, as thin as you can get it.
Melt the Hershey's bars in the microwave. Be very careful not to over heat them or they'll get dry lumpy.
When melted, pour on the toffee and spread to cover.
Top with more chopped up pecans.
Once it has set up, (mine take hours for the chocolate to firm up) break into pieces and store in an airtight container in the freezer.