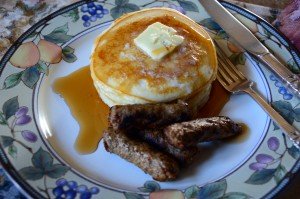 Pancakes- Tender, Plain & Melt in Your Mouth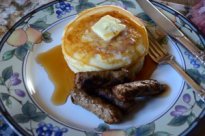 Author:
Gracehill Bed and Breakfast
I've experimented with a lot of pancakes in my time. Two pancake recipes won awards, both of those recipes have a lot of STUFF in them. The recipe here, is simply the best plain pancake I have ever eaten. I bought Gale Gand's Brunch!, at a national B&B convention (PAII) two years ago, and after reading it, went out and bought her four other cookbooks as well. The wonderful thing about Brunch! is, in a lot of cases, she will give you the basic recipe, then you flip the page and she has 3-4 alternatives to the basic recipe. At any rate, she says the secret ingredient to these pancake's is the potato starch. Claims it is also the secret ingredient to Krispy Kreme doughnuts! With no further ado-
Ingredients
⅔ C all-purpose flour
⅓ C potato starch (check in your grocery specialty section)
1 Tbsp sugar
⅜ tsp salt
1½ Tbsp baking powder
1 large egg
1 C whole milk (I used half and half)
2 Tbsp canola oil
Unsalted butter for cooking, (I used regular and it was fine!)
Instructions
Combine flour, potato starch, sugar, salt, and baking powder.
In a separate bowl, beat the egg with a fork and then mix in the milk and oil.
Pour over the dry ingredients, and combine with a wooden spoon or plastic spatula just until evenly moistened. Don't over beat, there will be lumps.
Heat a griddle until water flicked on it sizzles.
Add some butter to the griddle and spoon about 3 Tbsp of batter on the griddle.
Cook about 3 minutes, until the top has stopped bubbling and no longer looks wet, and the bottom is slightly browned. Flip and cook the second side 2-3 minutes.
Plate and add a little butter and syrup on top. They will melt in your mouth.