Breakfast- Criss Cross Puff Pastry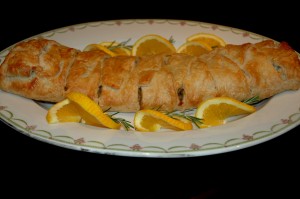 Author:
Gracehill Bed and Breakfast
1 package of Pepperidge Farm Frozen Puff Pastry, 2 sheets
4 eggs
1 Tbsp milk or water
1 lb bulk pork sausage
1 lb mild Italian sausage
2 C herb seasoned dry stuffing
1 medium-large onion, chopped
3 C sliced fresh mushrooms
4 Tbsp butter
Thaw pastry at room temp about 30 minutes.
Preheat oven to 375 degrees.
Brown sausage, drain thoroughly.
Sauté onion in a little butter.
Mix in a bowl the sausage, onion, dry stuffing and 3 eggs.
Sauté mushrooms in a little butter and set aside.
Roll out puff pastry on a floured surface.
Place ½ the mixture down the center.
Place mushrooms on top of sausage mixture.
Cut slits in remaining puff pastry and lift and fold over the top of the sausage forming a braid.
Makes 2 rolls.
Take remaining egg, mix with milk and brush on top.
Bake 35 minutes or until golden.