Tea Cakes- 3 Variations of Same Recipe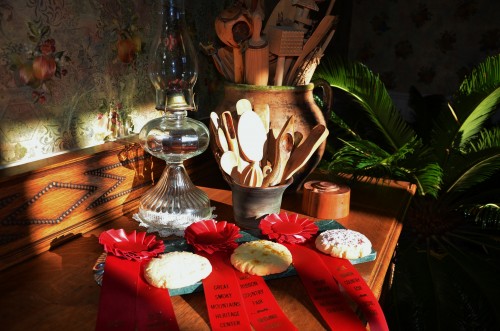 Author:
Gracehill Bed and Breakfast
1-cup butter
1-cup vegetable oil
1-cup granulated sugar
1-cup powdered sugar
1 t vanilla extract (or orange extract and orange zest)
2 eggs
1 t baking soda
4-cups flour and skimpy ?-cup flour
1 t cream of tartar
1 t salt
Sugar to coat cookies
Optional:
About a ½ a bag of vanilla chocolate (I use Ghiradelli chocolate pieces I get at Sam's Wholesale)
Some crushed up pieces of soft peppermint
Preheat oven to 375 degrees F.
In a large bowl cream butter, oil, and both sugars.
Add vanilla and eggs, mix.
Add dry ingredients and mix.
Roll a piece of dough into a 2 inch ball and then roll in granulated sugar.
Place ball on cookie sheet and press down with glass that has been dipped in sugar.
Bake for 13-15 minutes, or until edges just start to turn brown.
Optional:
Crush some soft peppermint sticks that are around 4 inches long and ½ wide. Set aside.
Once cookies are cooled, melt a little vanilla almond bark in the microwave, smear on top of cookie with a small spatula and dip in crushed up peppermint.
Let dry about 20 minutes before stacking in a Tupperware.
Freezes well.
Recipe by
Gracehill Bed and Breakfast
at https://www.gracehillbandb.com/2016/04/4636/