Side Dish- Square Deviled Eggs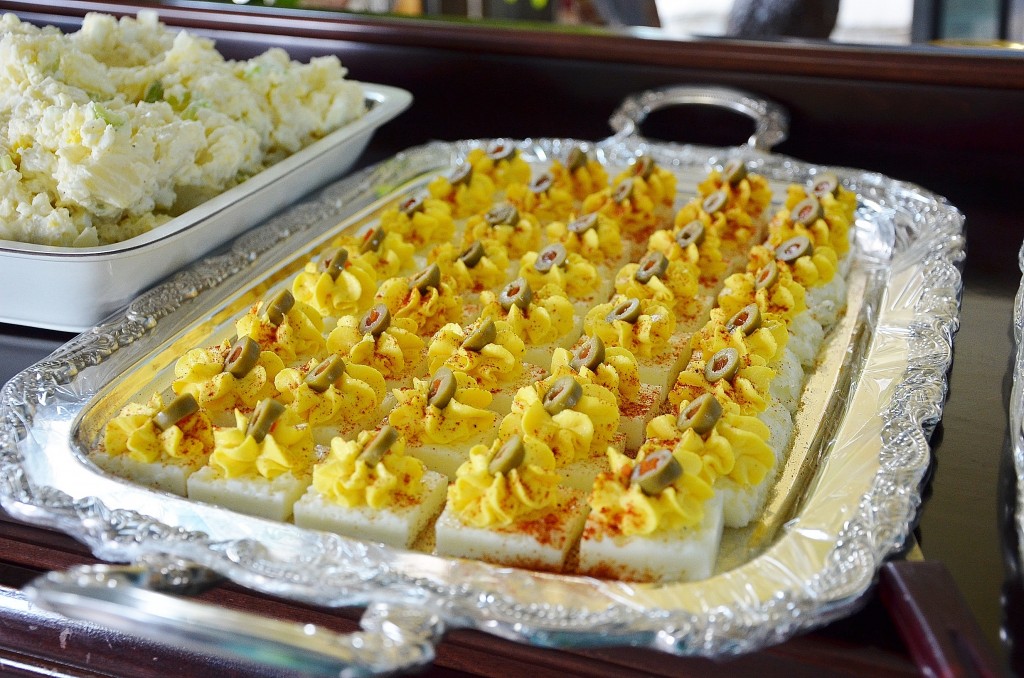 Author:
Gracehill Bed and Breakfast
Cooking spray
12 large eggs
¼ C mayonnaise
2 T sour cream
1 T white vinegar
2 t yellow mustard
Salt and pepper to taste
Paprika, sliced chives, or slices of black olives for a garnish
Equipment needed: a pastry bag fitted with a small round pastry tip and an 8X8 baking dish or a 9X13 pan, if you want to make a double batch. If you use a 9X13 pan, the egg whites will be just a tad thicker which is okay. You do not want to go thinner or they are hard to handle and remove from the pan.
Preheat the oven to 350 degrees F.
Coat an 8-inch square baking dish with cooking spray.
Separate the egg whites and yolks into 2 bowls; set aside the yolks.
Whisk the whites until just foamy, transfer them to the prepared baking dish, cover the dish with foil and bake until the whites have fully set, about 20 minutes. Let cool completely in the baking dish.
While the whites are baking, beat the yolks until smooth.
Lightly coat a medium nonstick skillet with cooking spray.
Add the yolks, and scramble over medium low until fully cooked and slightly dry, 4 to 5 minutes.
Transfer the yolks to a food processor.
Add the mayonnaise, sour cream, vinegar, mustard, ¼ teaspoon salt and a few grinds of pepper, and pulse until smooth and creamy.
Transfer the yolk mixture to a pastry bag fitted with a small round tip.
Flip the egg whites out of the baking dish onto a cutting board.
Cut into even 1-inch squares.
Pipe swirly dollops of the egg yolk mixture onto each square.
Sprinkle with paprika, chives, olives or whatever you want to use for as a garnish.