Dessert Bars- Apricot Oatmeal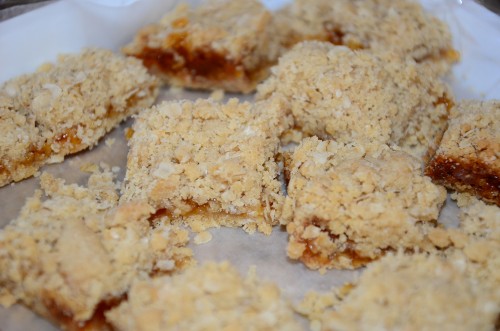 Author:
Gracehill Bed and Breakfast
1½ C of uncooked oatmeal
1 ¾ C flour
1 tsp baking soda
¾ C softened butter
1 C brown sugar
dash of salt
18oz jar of apricot preserves
Cream butter and brown sugar together with an electric mixer.
Add salt, baking soda and ¾ C of flour and mix.
Add remaining flour and mix together.
Add oatmeal and mix briefly. (You want the "batter" to be in little clumps the size of the tip of your little finger.)
Take half the mixture and press firmly in the bottom of a 9X13X2" sprayed pan.
Spread the apricot preserves evenly over the bottom layer, and then sprinkle on the remaining mixture.
Gently tap down just a little.
Bake at 350 degrees F for 20 minutes.
Cool and slice.
Freezes well.