Gracehill was several years in the making. Owner/Innkeeper Kathleen Janke had a vision of building a  home on a mountain with an outstanding view. Finding the right piece of property was the first challenge. She hiked the hills and pieces of property for sale for two years before eventually finding the 11 acres she would locate her home on. Once the building site was cleared she ended up with a spectacular setting that would be a breathtaking backdrop for this special home with a 360 degree view, including her neighbor the Great Smoky Mountains National Park.
During those two years she talked weekly with a friend, architect Jeanette Southart, who encouraged her to save clippings of pictures and designs of architectures she liked. Two years and thousands of clippings later, Kathy had an idea of the special features she wanted included in her home. Jeanette, together with Kathy, painstakingly worked through every unique detail of planning this home.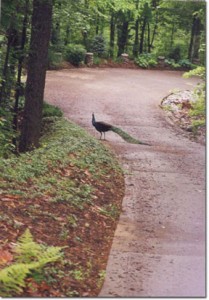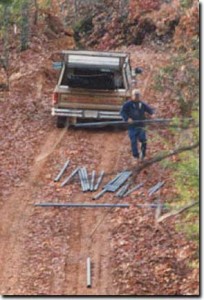 Many people realize how difficult building a home from the ground up can be. Couple that with the adventures of building a road to a remote spot on top of a mountain and you begin to have an idea of the magnitude of this project. The first picture Kathy took is on the left. Her electrician, hauling a load of electrical conduit for the underground utility service, was headed up the road in his pickup. Halfway up the hill one by one the pipe slowly slid out of the back of the pickup, (with the tailgate up and the pipe taped together!) Once the utilities were laid, all work stopped while the last 1600′ approach was poured 6′ deep with concrete to facilitate access.
Kathy's background prior to this had been varied.  She majored in biology and ended up in police communications for 11 years in the Chicago area.  Later, her mother Marilyn and she owned and operated  a campground/cabin rental, gas station/convenience store, and a restaurant/catering business here in Townsend, TN.   They sold this business after 10 years and Kathy did some landscape design work.  She wanted to understand as much of the building process as possible so during the two years she was scouting for property she went to work for the construction company she thought she would choose to build her home. Juggling that part time job with the full time job of building her home with, the most accommodating construction crew in Blount County, took up the next two years. Time passed in a blur of laying some of the 200 tons of dry stack stone, painting inside and out, wallpapering, tiling, landscaping, and making all the decisions on materials and interior decoration.
Almost five years in the making it is apparent to all who know Kathy that this unparalleled home is meant to be shared with others. Guests at Gracehill will enjoy a decadence rarely experienced as they revitalize themselves. Whether by soaking in the whirlpool tub, enjoying any one of the spectacular views, sitting on the veranda reading a book, enjoying a romantic candlelight meal, or just sharing some private time with your soul mate….  Relax and prepare to feel pampered in this one of a kind home.

Ten years have past since my original web designer and friend wrote the blurb above and a lot of water has come over the patio waterfall since!  I guess I can say the journey she wrote about is all true although, I would rather let our reviews on Trip Advisor come up with the adjectives…  😉  I attended our annual state B&B  association conference in Sept and the web guru stated we were missing the boat if we didn't have a photo of ourselves on our websites.  So here you have it.  The ten years of great innkeeping  memories are another thing.  Some introspective, others hilarious, but always with a sense of humor.  I feel a blog coming on.  mizkathleen@