Happenings in this Smoky Mountain Community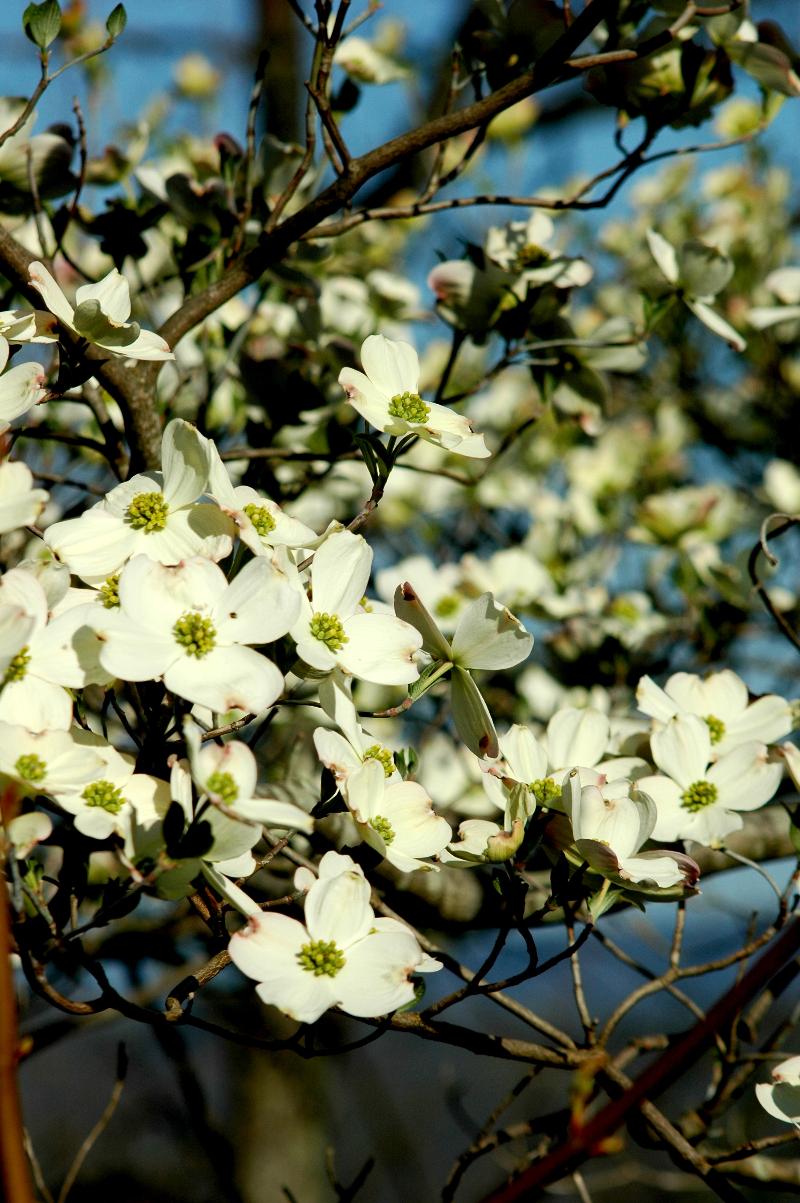 Every spring, the Townsend Visitors Center hosts the
Townsend Spring Festival and Old Timers Day
. This year marks the 18th festival held on April 30th and May 1st. Events start at 9 a.m. on Friday morning, with a two hour wildflower walk up Chestnut Top Trail, and continue all day long. Some of the highlights are garden tours and the Knoxville Pipes and Drums Concert and Parade at 6:30 p.m.. One of my previous guests plays in this band, see my blog on the
Gatlinburg Scottish Festival
May 14th-16th to hear them. Bluegrass music plays from noon to 10 p.m. both days, on the stage, with "pickers" playing everywhere there is a spot to stand. Arts and crafts booths are set up in back.
The music continues and Saturday morning starts even earlier. Demonstrations are held inside and out all day long. Highlights are the antique cars, antique tractors and engines, basket making, wood carving, quilting, rug hooking, spinning, bee keeping, pottery, cornmeal making, story telling, clogging, old harp singing and kids' games.There is a nominal charge for parking and we supply the lawn chairs with-

I've Taken 1000's of Sunset Photos
over the years, from the top veranda,
many seen here
. This photo ranks in the top five for unusual. It rained all day on April 8th. That evening I walked out of my office into the living room, stopped dead in my tracks, reached back, grabbed my camera, raced to the front porch, and started snapping away. I haven't used a tripod in almost ten years, and I certainly didn't have time to start searching for it. I braced myself against the porch railing and held the camera as steady as I could with the shutter open for about three seconds. The deck was wet and cold under my bare feet, and I swear I could hear the music from the "Twilight Zone" playing somewhere! You gotta love the Smokies...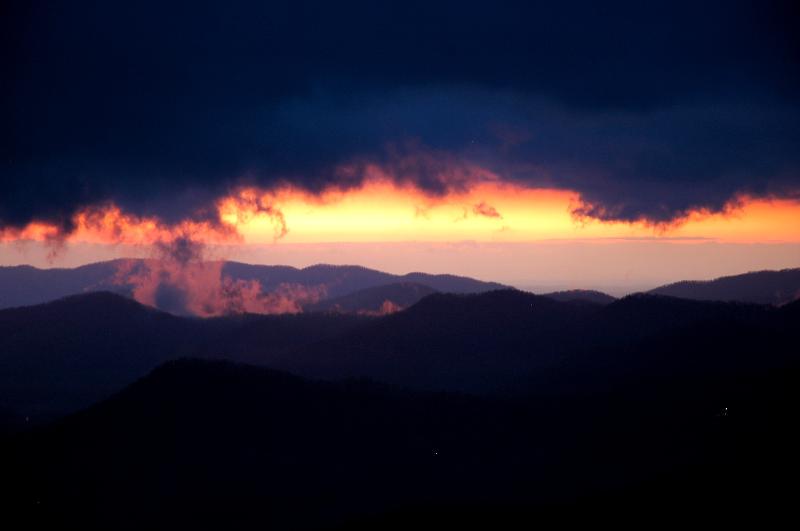 For Mother's Day
--
Egg, Cheese, Sausage, Spinach Enchiladas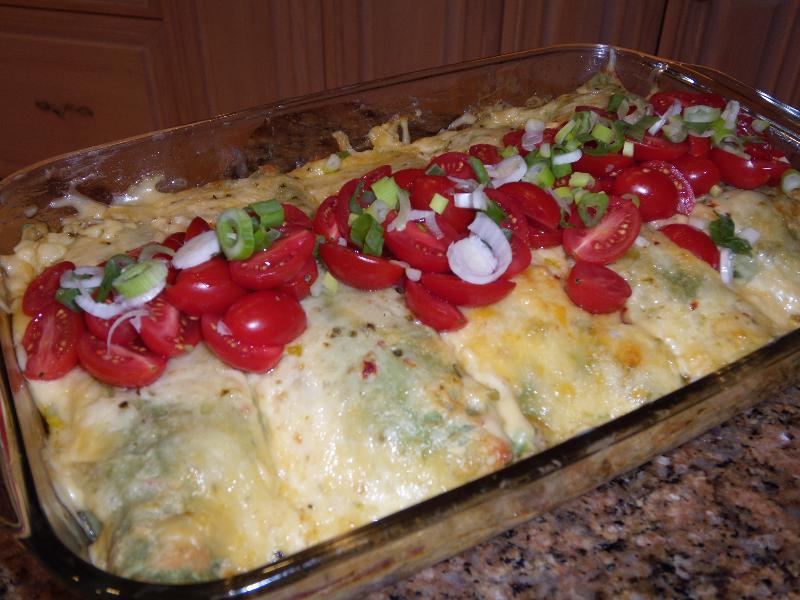 If your beloved is bringing you here for Mother's Day, I'll make it. If not, you are on your own...
The good news is
your
guests will think they died and went to heaven eating this brunch main course. The bad news is you're going to have a mess of pots and pans to wash when you're done.
HOWEVER, the whole thing can be made the night before, and stored in the fridge till you're ready to pop it in the oven the next morning. For the recipe
click here
. I love a little dollop of sour cream on top with the fresh green onions and cherry tomatoes, but I usually put it in a bowl, pass it around, and let folks help themselves. The recipe makes 8 very generous servings. There is enough egg and sausage filling for ten if you need to stretch it. Just put seven, as shown above, in this 9" X 13" and the other three in a smaller oblong 8.5" X 10" pan. For all our website recipes,
click here!
Gracehill Bed & Breakfast
1169 Little Round Top Way
Townsend, TN 37882
Kathleen Janke,
Owner-Innkeeper
(865) 448-3070
toll free (866) 448-3070
Follow us on
Upcoming Events