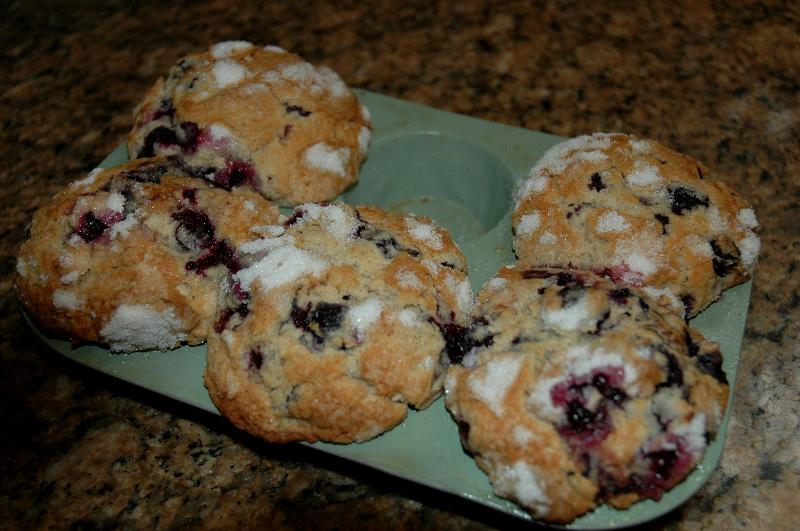 Half Batch of Baked Blueberry Muffins
I've made these blueberry muffins a hundred times, and of all the muffin recipes I've tried, they are, hands down, the best! I've made lemon raspberry streusel muffins a few times, but my mother kept saying they were not as moist as the blueberry. So I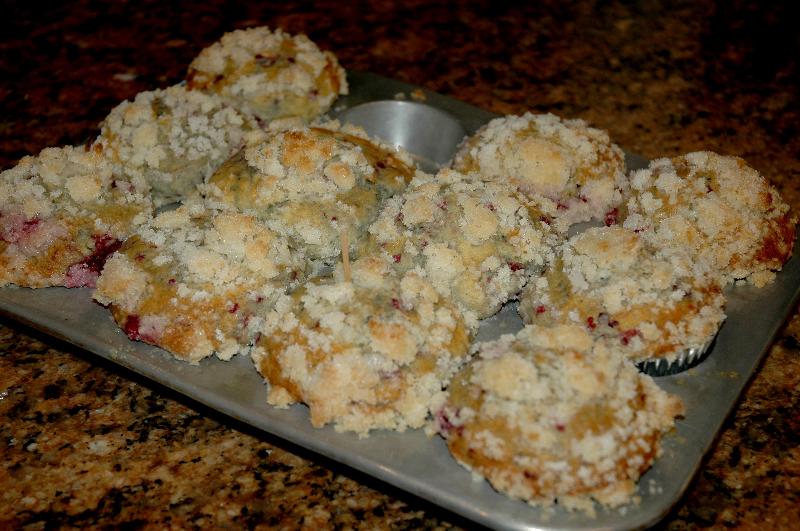 Full Batch of Lemon Raspberry Streusel
ditched the raspberry recipe and took the blueberry recipe and exchanged the blueberries for raspberries, the vanilla extract for lemon and added a little lemon zest. The blueberry recipe also calls for sprinkling a little sugar on top before baking. Makes the tops nice and crisp. I kept the streusel from the original raspberry recipe and used that on top of the new and improved raspberry muffins for variety. You can't mound the dough quite as high using streusel because it has a tendency to fall off, more than the sugar, so as you can see, the raspberry batch above made eleven muffins instead of ten.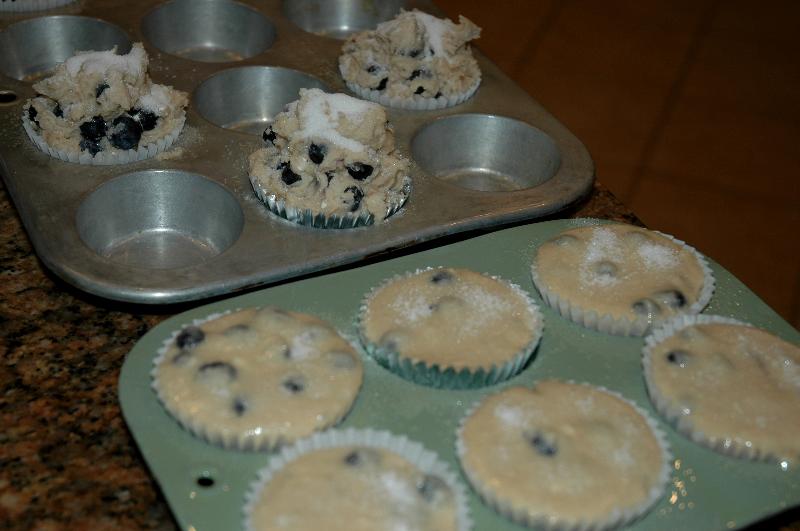 Gluten Free Batter in the Green Pan Compared to Regular Batter in the Top Pan

You can also take the blueberry recipe and make it gluten free. The top tray on the left shows regular batter mounded up. The green tray on the bottom shows the gluten free is a lot runnier even though you are using more flour. So instead of ten muffins to a batch you've got a dozen. As gluten free folks already know, gluten free muffins have a tendency to be a little crumbly.
One last thing, earlier this year I made a batch of tried and true blueberry muffins and they spread and came out flat on top. Second try, same thing. Thought I was going crazy. I checked my oven temps, they were fine, but I tried a different oven. Still flat. Replaced the baking powder, still flat. Bought store bought eggs instead of the farm fresh ones from the "Crazy Eyed Girl" chicken down the road. Flat. I bought a new bag of flour and they came out fine. Never heard of that happening before. So if I ever have a flop again, and my baking powder is not past the expiration date, I'll start by replacing the flour and see what that does. For all our website recipes click here!