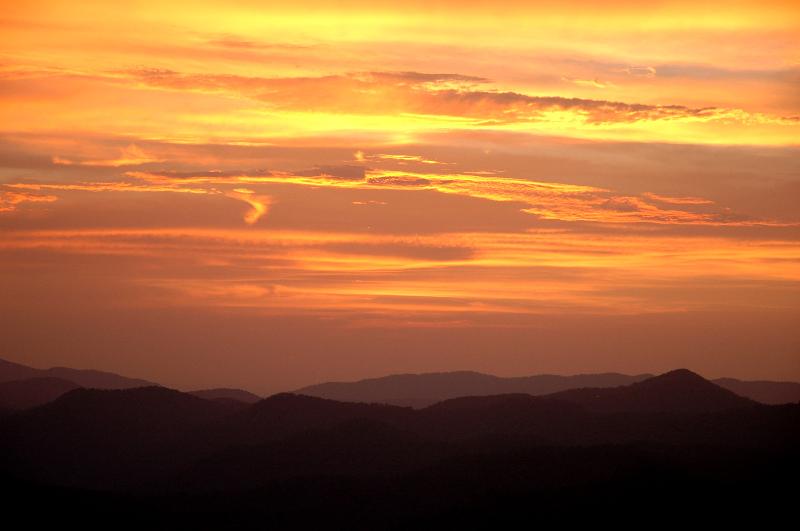 Thanksgiving, actually, is always special, but you really don't have to plan, shop, clean, bake, cook, set the table, crank out a flower arrangement and clean up this Thanksgiving. Let us do it for you. It's a special time of year, here in the Smokies, and evident at Gracehill. If you book three nights over the holiday, (W-TH-F or TH-F-S) Thanksgiving dinner is on us. If you are here four nights, we'll include a picnic lunch on Friday. So your excuse for not coming can't be that you wouldn't have a turkey sandwich/or turkey salad w/cranberries the next day!
Prepare for a little game of Trival Pursuit, in the living room, around the fire afterwards. Guys against the girls. Girls always win... I think. Actually, I can't remember what happened last year. That memory, fortunately, is a little fuzzy.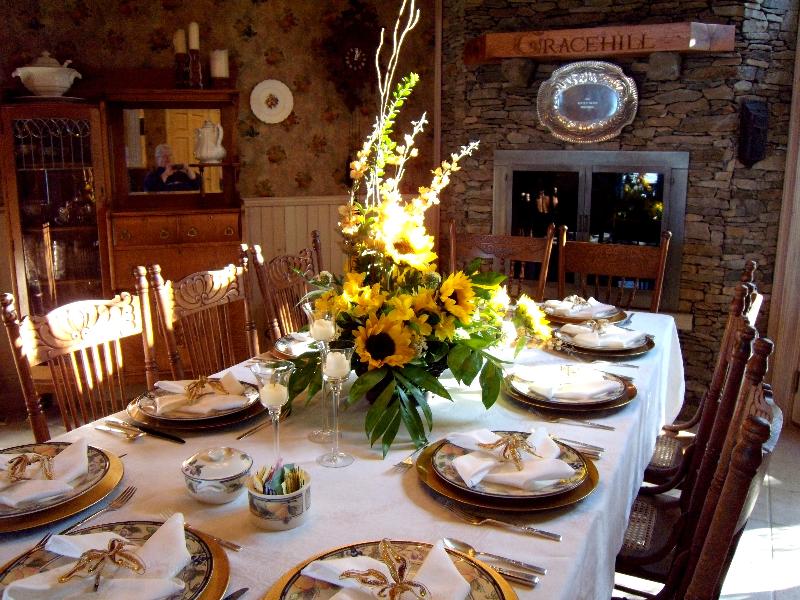 Picture the sun going down, the candles and fire lit, and your warm body in one of these chairs. Then eat till you can't...


Smoky Mountains Holidays


For a Nov-Dec newsletter, I thought I should place, in the top photo, a sparkly Christmas scene. But heck, here we are at the end of October, and the leaves haven't peaked yet. And, they're still hanging on the trees like they were super glued! My little patch of mountain in particular still has a lot of green. So the photo above was taken last year about this same time, and I can't think about Christmas before Thanksgiving, sorry!
In Appreciation to Previous Guests
who have referred their friends for a Gracehill stay, we would like to do something a little more meaningful than saying a heartfelt thanks.
Retroactively, for every three different friends/coworkers/relatives or strangers on the train that you convince to book and stay at Gracehill, you will have a free night's stay.
If you add that free night to a second night it will be a "call anytime to book your reservation." If taking the one complimentary night by itself, call anytime two days ahead, to book. For example, for a Friday night stay, call Wednesday noon or later to check availability for the coming weekend. When your friends, book it helps if they say you referred them, but we'll get it figured out.
The Bottomless Cookie Jar Recipes
A number of guests have asked for some of our cookie recipes that we've baked this Sept-Oct in the bottomless cookie jar special. I've started posting
one cookie recipe a week on my website
, and will continue until Christmas. If you don't want to check our website each week,
an easy way to see the latest recipes and blogs is to click on the Facebook or Twitter link on the right and follow us.
The links and titles of the recipes will show up there. I don't post every day, but in addition to the recipes, maybe 3 or 4 times a week. I'll keep you posted on what is happening locally, or perhaps post any last minute specials. So, if you click the like button on Facebook for Gracehill Bed and Breakfast, I swear you will be able to smell what I'm baking in the kitchen. Kind of like a scratch and sniff, bed and breakfast style. :-) Blessings from mizkathleen@
How Lucky Can a Girl Get???

Orange Cream Cheese Pound Cake

Last year I baked the same blueberry pound cake dozens of times looking for a winner. (It got third place.)
This year, three days before the Great Smoky Mountains Heritage Center's Blue Ribbon Country Fair, I was still, unsure what I was going to enter. Ecchhh! I went on a 72 hour odyssey reading what makes a pound cake a good pound cake. I started
baking them one after another mostly from recipes online. Click for the details. My guests were
sports AND taste testers, along with neighbors, my doctor's
office, etc.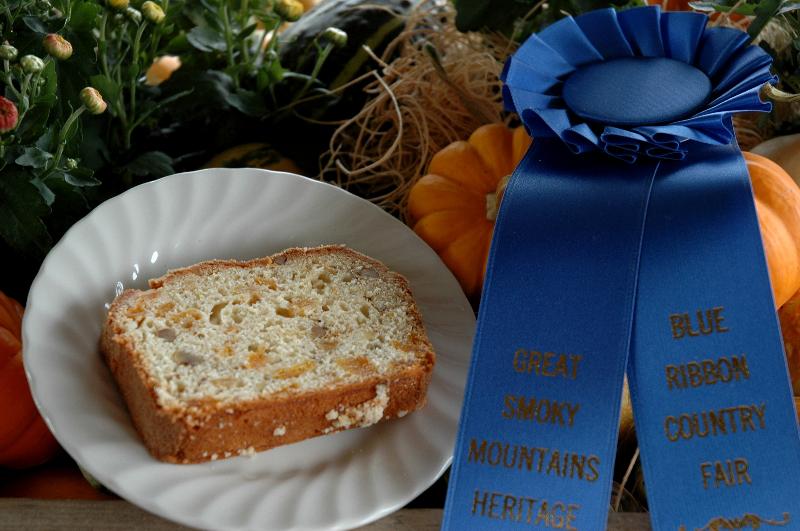 Apricot Walnut Quick Bread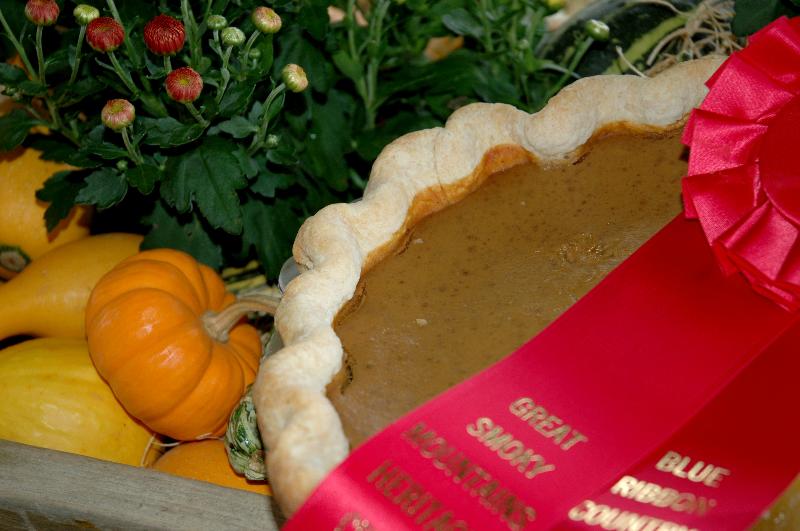 Mom's Pumpkin Pie Recipe

Paula Deen, move over. Of those my friends tasted, her recipe came in last (maybe operator error, me, but perhaps she shouldn't use oil in place of some of the butter.) Elvis
Presley's favorite pound cake was goooood, but hands down, the first pick was an
Orange Cream Cheese Pound Cake
. Judges must have
agreed, it won th
e blue ribbon. Mom's tried and true recipe for Apricot Walnut Bread also won a blue ribbon and the Pumpkin Pie recipe she has been using for 60+ years came in second place. I'll work on that between now and Thanksgiving. If you have a pumpkin pie recipe you love, and don't mind sharing, email it to me. For all our recipes click here!
Gracehill Bed & Breakfast
1169 Little Round Top Way
Kathleen Janke,
Owner-Innkeeper
(865) 448-3070
toll free (866) 448-3070
Follow us on
Oct 30 (Maryville) Sam Houston Historic Schoolhouse Country Fair
Nov 6 (Maryville) in Concert at the Clayton Center The Blind Boys of Alabama 8PM $27.50

Nov 7 (Walland) Mill House Classic 15K
Nov 10 (Gatlinburg) 5-8PM Winter Magic Kickoff and Chili Cook-off
Nov 12 (Pigeon Forge) Ronnie McDowell and Billy Joe Royal in Concert 8PM
Nov 23-27 (Gatlinburg) Festival of Trees at the Convention Center
Nov 26-27 (Gatlinburg) The Nutcracker Sweet, presented by the Great Smoky Mountain Dance Theater at the Convention Center
Dec 1-5 (Gatlinburg) Great Smoky Arts and Crafts Community Holiday Show at the Convention Center
Dec 3 (Maryville) in Concert at the Clayton Center Kathy Mettea, 8PM $29
Dec 3 (Gatlinburg) 7:30 PM Christmas Parade
Dec 4-5 (Gatlinburg) Ober Gatlinburg Christmas on Ice
Dec 31 (Gatlinburg) Watch the Ball Drop and Fireworks at the Space Needle and Historic Nature Trail Road
Jan 30-Feb 2 (Gatlinburg) Tennessee Winter Special Olympics at Ober Gatlinburg Ski Resort
Basket Making-
Karen Kenst
Jan 20, 22, 27, 29 and
Feb 24, 26
Applique Tea Towels-
Joyce Jarman
April 2
Pottery Classes-
Carol Ware
Jan 8
Feb 12 and 27
Guitar Flatpicking-
Steve Kaufman
Feb 18-19
Rug Hooking Class-
Carolyn McBride
April 9 9AM-12PM
Broom Making Class-
David Higgins
March 12